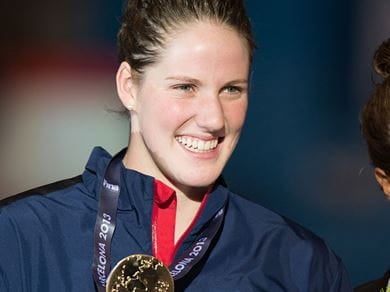 BrunoRosa / Shutterstock.com
Faith:

Christian

Career:

Athlete

Birthday:

May 10, 1995

Accomplishments:

Olympic Gold

Fun Fact:

Refused prize money and endorsements to be able to compete as an amateur in college
Melissa Franklin Johnson, known professionally as Missy Franklin, is a former competition swimmer and five-time Olympic gold medallist. She formerly held the world record in the 200-meter backstroke. As a member of the U.S. national swim team, she also held world records in the 4 x 100-meter medley relay. In her Olympic debut at the 2012 Summer Olympics at 17, she won a total of five medals, four of which were gold.
Franklin swept the women's backstroke events, winning gold in both the 100-meter and 200-meter backstroke. Her successes have earned her Swimming World's World Swimmer of the Year Award in 2011 and 2012. In total, she's won 28 medals in international competitions: 17 gold, six silver and five bronze, spanning the Olympics, the World Championships, the short course World Championships, and the Pan Pacific Championships. Her 11 gold medals at the World Aquatics Championships was a record in women's swimming before Katie Ledecky broke it in 2017.
Franklin holds dual Canadian and American citizenship but chose to compete for the U.S. national swim team. She announced her retirement from the sport in December 2018. Franklin was born in Pasadena, California. When she was a baby, her mother was worried about her water safety, so she started swimming because her parents wanted her to be comfortable with the water. She grew up in Aurora, Colorado and started taking swimming classes when she was five at her mother's urging.
During her rise to stardom around the 2012 Olympics, Franklin continued to refuse endorsements and prize money so she could maintain her amateur status to compete in college. In 2012, she accepted an athletic scholarship to attend the University of California, Berkley, where she started swimming for coach Teri McKeever's California Golden Bears women's swimming team during the 2013-14 academic year. At Cal, Franklin is a four-time individual NCAA champion, winning the 200-yard freestyle in 2014 and 2015 and the 200-yard backstroke and individual medley in 2015.
What religion is Missy Franklin?
Franklin was raised in a Christian family but didn't identify as religious or attend church until she read the Bible and took theology classes. As a Religion major at the University of Georgia, she took classes in several religions, including Judaism, Christianity, Buddhism, Islam, and Hinduism. She had already practiced yoga recreationally for three years but said learning about its Hindu roots in college made it a more spiritual experience for her.
At the time of her retirement, Franklin said her academic interest in Hinduism was misreported as her being an adherent. In an interview about her Christian faith, Franklin said her Hindu interests were "blown a little out of proportion."
Back to the Celebrity Faith Database