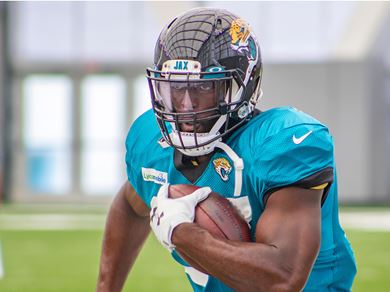 April Visuals / Shutterstock.com
Faith:

Christian

Career:

Athlete

Birthday:

January 18, 1995

Fun Fact:

Fournette credits his mother's Catholic faith for helping his family recover after Hurricane Katrina.
Leonard Fournette is a football player who's currently a free agent. He played college football for the LSU Tigers and was drafted by the Jacksonville Jaguars in the 2017 NFL Draft. He had near-unprecedented hype into college in 2014 after an excellent career at St. Augustine High School in New Orleans. According to ESPN and CBS Sports, Fournette was also named the top-ranked recruit in the 2014 senior class.
At LSU, he was a consensus All-America selection after his sophomore season in 2015 after setting school single-season records with 1.953 rushing yards and 22 rushing touchdowns, leading the country with 162.8 rushing yards per game. Numerous experts regarded him as the best player in college football. After being drafted by the Jaguars, Fournette had immediate success, including rushing for over 1,000 yards in his rookie season.
Unfortunately, Fournette struggled with suspensions and several injuries, and as a result, his relationship with the franchise soured, leading to his release after only three seasons with the team. Afterward, he signed with the Buccaneers, with whom he played a large part in winning Super Bowl LV over the Kansas City Chiefs. He was the team's primary starter for most of the 2021 season, but a late-season injury kept him out of the last three games of the regular season and some of the playoffs.
Fournette was raised in the 7th ward of New Orleans by his parents, Lory and Leonard Jr. He grew up in an area affected by gang activity and violence, especially after Hurricane Katrina in 2005. However, he credited Hurricane Katrina for kick-starting his football career after he moved to Houston and back within a year due to hurricane evacuation. He also credits his mother's Catholic faith for getting his family through the recovery process.
When Fournette returned to New Orleans, he played football at St. Augustine High School and competed in track and field. His 200 meters regional mark of 21.57 seconds is the fastest in 4A, and his 10.68 in the 100 meters is only .02 off the best time. He also competed in the 4 x 100 meters relay and the 4 x 200 meters relay.
Is Leonard Fournette religious?
Leonard Fournette identifies as a Christian. After Hurricane Katrina, Fournette says his family was stuck on a bridge for four days. He believes his mother's Catholic faith got the family off the bridge. Fournette said she recited prayers every night, adding, "She's a church-going woman who prayed the Lord would get us through what we were going through."
Back to the Celebrity Faith Database