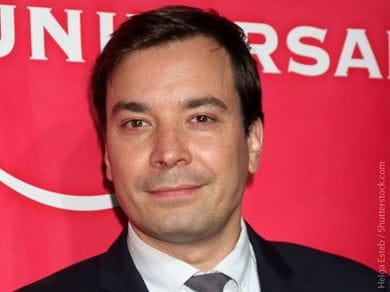 Faith:

Christian - Catholic

Career:

Actor

Birthday:

September 19, 1974

Accomplishments:

SNL

Fun Fact:

Jimmy Fallon considered becoming a priest, but chose comedy.
Jimmy Fallon is a television host, comedian, and actor. He's best known for his work in television, but Fallon's breakthrough came during his tenure as a cast member on the NBC sketch comedy show "Saturday Night Live." He was the host of the late-night talk show "Late Night with Jimmy Fallon" from 2009 to 2014 and became the anchor of "The Tonight Show Starring Jimmy Fallon" after he departed from "Late Night."
Fallon grew up with an interest in music and comedy, moving to Los Angeles at 21 to pursue stand-up comedy. He was commissioned to join "Saturday Night Live" as a cast member in 1998, fulfilling a lifelong dream. During his six-year tenure on "SNL," Fallon co-hosted the program's Weekend Update segment. In 2004, Fallon left the show to star in movies like "Taxi" and "Fever Pitch." After his film career, Fallon returned to TV as the host of "Late Night with Jimmy Fallon" on NBC in 2009, where he became known for his emphasis on video games and music.
He moved from that show to become the sixth permanent host of the "Tonight Show" in 2014. In addition to his TV work, he's released two comedy albums and seven books, mainly aimed at children. Fallon was born in Brooklyn, New York, in 1974. His father spent his teens signing in street-corner doo-wop groups, then served in the Vietnam War. After Fallon was born, his father started working as a machine repairman for IBM in Kingston, New York. Fallon described his childhood as idyllic, while his parents have been described as overprotective. Fallon and his sister, Gloria, couldn't leave their home and had to ride their bikes in the backyard.
Fallon spent many nights listening to the radio program The Dr. Demento Show, which exposed him to both music and comedy, and he often recorded it on a reel-to-reel recorder. As a teenager, Fallon developed an obsession with "Saturday Night Live." He watched it religiously, although he could only watch "the clean parts" his parents taped for him. Fallon impressed his parents with impersonations, including of actor James Cagney and comedian Dana Carvey. He was also musically inclined and started playing guitar when he was 13, performing music and comedy in shows and contests. He would go on to be labeled as a class clown but was also described as "nice and well-mannered."
What religion is Jimmy Fallon?
Fallon was raised Roman Catholic and attended the Roman Catholic school St. Mary of the Snow. He considered becoming a priest due to his experience as an altar boy but became more interested in comedy instead. He said of his church experience as a child, "I just, I loved the church. I loved the idea of it. I loved the smell of the incense. I loved the feeling you get when you left church. I loved like how this priest can make people feel this good. I just thought it was – I loved the whole idea of it."
He continued, "My grandfather was very religious, so I used to go to Mass with him at like 6:45 in the morning, serve Mass. And then you made money, too, if you did weddings and funerals. You'd get like five bucks. And so I go, 'Okay, I can make money too.' I go, 'This could be a good deal for me.' I thought I had the calling." However, Fallon has admitted that he's no longer a regular churchgoer.
Back to the Celebrity Faith Database