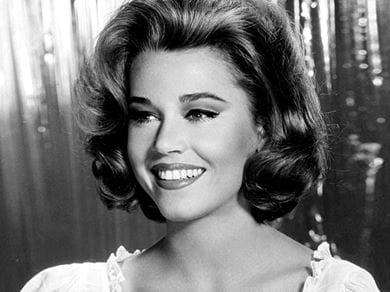 Public Domain
Faith:

Christian

Career:

Actress

Birthday:

December 21, 1937

Accomplishments:

Published Writer, Oscar Winner, Fitness Guru, Activist, Golden Globe Winner, Barbarella, Monster in Law, Georgia Rule, The China Syndrome, Fun With Dick and Jane, On Golden Pond
Jane Fonda publicly announced her Christian conversion in 2001, shortly after her divorce from media mogul Ted Turner, a staunch atheist, who she had been married to for 10 years. "I always assumed [I was raised] as an atheist, " Jane Fonda told Beliefnet in a 2005 interview. "Looking back now, I guess it was more an agnostic upbringing. My father's parents were Christian Science practitioners. Things began to change for me--as I think they do for many people--when I was in crisis." In a 2006 interview with Charlie Rose, she also stated that her conversion upset Turner and may have played a role in their divorce. Fonda refers to her new Christian faith as her "spiritual home." "I think it's partly that I live in Georgia; it's partly that it's my culture. …I wasn't attracted to Buddhism although I really respect it. I wasn't attracted to Islam although I really respect it. Or Judaism. I'm attracted to Jesus."

Fonda is the daughter of screen legend Henry Fonda.

Image Courtesy of Georges Biard.
Back to the Celebrity Faith Database