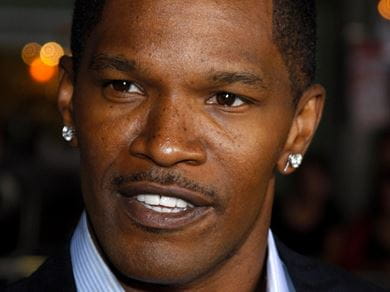 Faith:

Christian

Career:

Actor

Birthday:

December 13, 1967

Accomplishments:

Academy Award Winner, Golden Globes, Grammy Awards

Fun Fact:

Foxx participated in his church choir during his youth.
Jamie Foxx is an actor, singer, songwriter and comedian. He has won prestigious awards for his roles in Ray and Collateral. Other prominent movies he has been in include Django Unchained, Miami Vice, and The Amazing Spider-Man 2. Foxx also starred in the sketchy comedy show In Living Color and his own television show sitcom, The Jamie Fox Show. He is also a Grammy Award winning musician and has produced four albums that have been successful on the US Billboard 200.
Jamie has gained favor with fans over the years due a versatile showcase of skills and personality in entertainment and off the screen. He starred in Django Unchained, a film by Quentin Tarantino, which portrays a former slave turned bounty hunter. The film depicts strong themes and Jamie Foxx showcased his acting chops on a very deep level.
Aside from film, Jamie, in interviews, has showcased his ability to mimic voices of prominent celebrities, to sing, and to make people laugh. His charismatic personality made it on to Joe Rogan's podcast, where he talked comedy, acting, and his life. He talks about incredible determination and talent needed to make it past obstacles in life and displays a unique sense of humor. This episode with Joe Rogan has become the favorite podcast of many JRE fans.
It is safe to say Jamie Foxx has endeared many and continues to bless lives via philanthropy as he has donated to many Stand Up To Cancer campaigns and the Global Down Syndrome Foundation.
Jamie Foxx Family and Religious Values
Jamie Foxx has a close-knit family. He stays close with his immediate family and has two daughters - Corinne and Annalise. He keeps their lives very private. Jamie has spoked about the importance of family in his life and often expresses his love and gratitude for his family members.
Jamie Foxx keeps his specific religious beliefs private and they're not widely discussed but it is known that he is Christian. Before the release of the film Just Mercy, he opened up about his Christian faith.
Recently, Foxx has been hospitalized with a "serious medical condition" and his agent, along with family, have requested prayers on his behalf.
Back to the Celebrity Faith Database