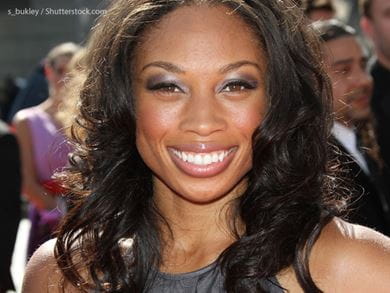 Faith:

Christian

Career:

Athlete

Birthday:

November 18, 1985

Accomplishments:

Olympic Gold

Fun Fact:

Felix attended a Baptist high school in California.
Allyson Felix is a retired track and field athlete who competed in the 100 meters, 200 meters and 400 meters. She specialized in the 200 meters from 2003 to 2013, then gradually moved to the 400 meters later in her career. At 200 meters, Felix is the 2012 Olympic champion, a three-time world champion, a two-time Olympic silver medalist, and the 2011 world bronze medalist. At 400 meters, she's the 2015 world champion, 2011 world silver medalist, 2016 Olympic silver medalist, 2017 world bronze medalist, and 2020 Olympic bronze medalist.
Across the short distances, Felix is a ten-time U.S. national champion. She played a critical role on the United States women's relay teams, winning six additional Olympic gold medals: four consecutive medals at 4 x 400 and two at 4 x 100 meters. The 2012 and 2016 U.S. Olympic 4 x 100 m teams set a world record of 40.82 s and the second fastest time of 41.01 s, respectively. With these six golds from relays and one from an individual event, Felix became the first female track and field athlete ever to win seven Olympic gold medals.
She's also the most decorated woman in Olympic track and field history and the most decorated American track and field athlete in Olympic history, having earned 11 total medals from five consecutive Olympic Games. Felix is the most decorated athlete, male or female, in World Athletics Championships history with 20 career medals, seven from individual events and 13 from team relays. With a combined Olympic and World Championship total of 31 medals, she's also the overall most decorated athlete in track and field history, with 12 medals from individual events and 19 from relays.
Felix was the first athlete in track and field history to medal in three different relays, 4 x 100 m, 4 x 400 m and mixed 4 x 400m. Among Felix's notable performances, her 200-meter personal best of 21.69 seconds, which was set at the 2012 U.S. Olympic trials, ranked at the time as the third-fastest time ever run by an American woman and sixth-fastest time by a female athlete in history. She also ran a 47.72-second leg on the U.S. women's 4 x 400 m relay team at the 2015 Beijing World Championships, recording the fastest split by an American woman and the third-fastest split by a female athlete.
Felix, along with Kara Goucher and Alysia Montano, is credited with stirring public outcry over Nike's refusal to guarantee salary protections for its pregnant athletes, prompting the sportswear brand to expand its maternity policy in 2019. Two years after leaving Nike, she turned entrepreneur and launched her footwear company, Saysh, in 2021.
What religion is Allyson Felix?
Allyson Felix identifies as a Christian. In an interview with Athletes in Action, she said her faith started when she was young, as she was raised in a strong Christian home. She said, "I am so blessed to have my family and the upbringing that I did. It means so much to me to have two very godly parents who both have so much wisdom. They are amazing role models that I have had the privilege to watch as I grew up."
She continued, "I came to know Jesus Christ as my personal Savior at a very young age. Ever since then, I have continually been striving to grow in my relationship with God. I was nowhere close to the perfect child. I had my share of difficult times along with some disappointing choices that I made, but thankfully, God never stops loving me."
Back to the Celebrity Faith Database