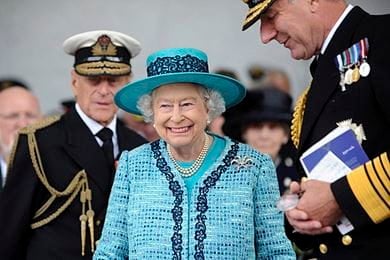 Wikicommons
Faith:

Protestant

Career:

Public Figure

Birthday:

April 21, 1926

Date of Death:

September 08, 2022

Fun Fact:

Queen Elizabeth II loves corgis and has owned over 30 in her lifetime.
Queen Elizabeth II is a protestant Christian.
Born Elizabeth Alexandra Mary Windsor, Queen Elizabeth II is one of the most popular royal figures in history. She is the longest reigning monarch in British history which began when she was just 25 years old. Her royal highness became queen of Northern Ireland and Great Britain after the passing of her father, King George VI. She was the first monarch to have her coronation broadcasted on live television. The queen has also travelled more than any other monarch visiting over 120 countries across six continents. She met her future husband, the Duke of Edinburgh, when she was just eight years old, and by the age of 13, she swore she was madly in love with Philip. Elizabeth and Philip married in 1947 where they received over 2,500 wedding gifts. The royal pair went on to have four children, eight grandchildren and 12 great-grandchildren. Their son Prince Charles, father of Prince William and Prince Harry, is next in line to the throne.
Queen Elizabeth II passed away on September 8, 2022.
Back to the Celebrity Faith Database