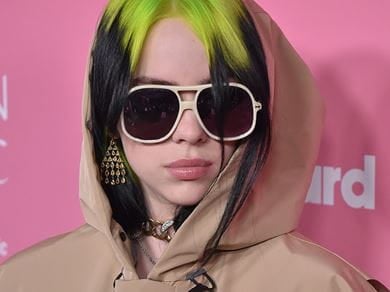 DFree / Shutterstock.com
Faith:

Unknown

Career:

Musician

Birthday:

December 18, 2001

Accomplishments:

Grammy Awards

Fun Fact:

Although she doesn't affiliate with any religion now, the singer was "very religious" as a child.
Who is Billie Eilish?
Billie Eilish Pirate Baird O'Connell is an American singer and songwriter. She was born in Los Angeles, California, on Dec. 18, 2001. Her parents, Maggie and Patrick, were life-long actors before Eilish rose to fame. Eilish's full legal name is Billie Eilish Pirate Baird O'Connell. "Billie" is to honor her mother's father, William; "Eilish" came from a conjoined twin documentary her parents; and "Pirate" is what her older brother, Finneas insisted on. Eilish and her brother were raised in a two-bedroom house in Highland Park. Eilish had many hobbies such as gymnastics, horseback riding, dancing, and music as a child. At the early age of six, Eilish could already play songs on the ukulele. When she was eight, Eilish joined the Los Angeles Children's Chorus. A few years later, she started writing songs with inspiration from her mom's songwriting classes. Besides her distinctive sound, she is known for her unique fashion and hair color choices. The young superstar has had several chart-topping hits such as "Bad Guy," "Ocean Eyes," and "Happier Than Ever" that she collaborated with her older brother, Finneas, on. Some of her songs, such as "Bury a Friend," have been a point of controversy due to their dark subject and disturbing music video imagery. At 20 years old, Eilish already has five Grammy awards, and several other award show wins.
Is Biliie Eilish religious?
Although she doesn't affiliate with any religion now, the singer was "very religious" as a child. "My family never was religious. I didn't know anyone that was religious. And, for some reason, as a little girl I just was incredibly religious," Eilish explained in an interview. "That went on for years. And then, at one point, I don't know what happened: it just completely went away. It was weird, because then I had a couple years of being almost anti-religious for no reason, and I don't know why that happened, I don't know what made me that way. And then, after that period of my life, I've loved the idea of other beliefs."
Back to the Celebrity Faith Database