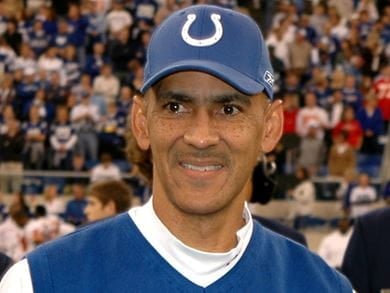 Public Domain / Wikimedia.org
Faith:

Christian

Career:

Public Figure

Birthday:

October 06, 1955

Accomplishments:

Super Bowl

Fun Fact:

Nearly left his coaching career for the prison ministry
Tony Dungy's journey to becoming one of the most influential coaches in NFL history began long before he stepped foot on a football field. Born on October 6, 1955, in Jackson, Michigan, Dungy grew up in a tight-knit family that emphasized the values of faith, hard work, and perseverance. Dungy's love for football was also ignited during his childhood, as he watched his father coach a local youth team. This early exposure to the game sparked a passion in Dungy that would eventually lead him to achieve great success as both a player and a coach. From his humble beginnings in Michigan to his rise in the NFL, Dungy's background played a crucial role in shaping the man and coach he would become.
Dungy's career took off when he joined the Pittsburgh Steelers as a defensive back in 1977, winning a Super Bowl with the team in 1978. After his playing days ended, Dungy transitioned into coaching, where he quickly made a name for himself as a defensive coordinator. In 1996, he became the head coach of the Tampa Bay Buccaneers, leading them to multiple playoff appearances. However, Dungy's most significant career milestone came when he was hired as the head coach of the Indianapolis Colts in 2002. With Dungy at the helm, the Colts experienced tremendous success, including a Super Bowl victory in 2007. Dungy's career in football was marked by perseverance, strategic brilliance, and a steadfast commitment to his players' development both on and off the field.
Tony Dungy Religious Beliefs
Throughout his life and career, Tony Dungy's Christian faith played a significant role. It wasn't just something he practiced in private; it was evident on the football field as well. Dungy believed that his faith informed his coaching style, shaping him into a compassionate and empathetic leader. He prioritized building strong relationships with his players and emphasized character development and integrity over purely athletic success. Dungy's faith also provided him with a sense of purpose and perspective, reminding him to prioritize what truly mattered in life. This unwavering commitment to his faith ultimately became one of Dungy's defining characteristics and set him apart from other coaches in the NFL.
Back to the Celebrity Faith Database