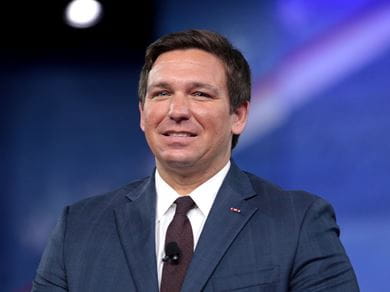 Gage Skidmore / Flickr
Faith:

Catholic

Career:

Politician

Birthday:

September 14, 1978

Fun Fact:

DeSantis said his strict Catholic grade school taught him discipline.
Ron DeSantis is a politician serving as the 46th governor of Florida since 2019. A member of the Republican Party, he represented Florida's sixth congressional district in the U.S. House of Representatives from 2013 to 2018. He's also a candidate in the 2024 presidential election. DeSantis was born in Jacksonville and spent most of his childhood in Dunedin, Florida. He graduated from Yale and Harvard Law School.
In 2004, he joined the Navy and was promoted to lieutenant before serving as a legal advisor to SEAL Team One. In 2006, DeSantis was stationed at Joint Task Force Guantanamo and was deployed to Iraq the following year. When he returned to the U.S. eight months later, the U.S. Attorney General appointed him as a Special Assistant U.S. attorney at the U.S. Attorney's Office in the Middle District of Florida, a position he held until he was honorably discharged from active duty in 2010.
DeSantis was first elected to Congress in 2012 and was reelected in 2014 and 2016. During his tenure, he became a founding member of the Freedom Caucus and an ally of President Trump. In 2016, he briefly ran for U.S. Senate but withdrew when incumbent senator Marco Rubio sought reelection. In 2018, DeSantis won the Republican nomination for the gubernatorial election, narrowly defeating the Democratic nominee, Andrew Gillum, in the general election by 0.4 percent.
In 2022, DeSantis was reelected in a landslide in the Florida gubernatorial election. His 19.4 percent margin of victory over Charlie Crist was the state's largest in 40 years. After his successful reelection, DeSantis announced his bid for president of the United States, continuing to serve as governor during his campaign. He has written two books: Dreams From Our Founding Fathers, published before his first campaign for Congress in 2011, and The Courage to Be Free in 2023, before his presidential campaign.
Is Ron DeSantis religious?
Ron DeSantis identifies with the Catholic faith. While he may not publicly discuss his faith, he credits it for keeping him grounded. In an interview with CBN News, DeSantis said he and his wife attend church weekly and make it a family priority.
He said, "Our household is a Christ-centered household. We're raising our kids with those values. We think that that's very important. It's great for us when our kids are coming back from preschool or kindergarten, talking about David and Goliath, and we're like, thank you. So we're very, very appreciative of being able to do that. My son, he was four for Christmas this year, he wanted a sling to be like David slaying Goliath, and so that really warms our hearts when we see that."
Back to the Celebrity Faith Database