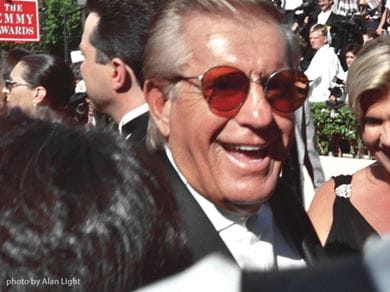 Faith:

Spirituality

Career:

Actor

Birthday:

July 27, 1931

Date of Death:

January 05, 2018

Fun Fact:

Jerry Van Dyke turned down the role of Gilligan on Gilligan's Island.
Jerry Van Dike was an actor from Illinois known in part for his cameo appearances on The Dick Van Dyke Show, named for his older brother. In high school, Van Dyke started a young career in entertainment performing stand up until he graduated and joined the Air Force. While serving, he performed at military basis and won the All Air Force Talent Show twice.

Van Dyke later moved to television, first appearing on his brother's show, and later, The Ed Sullivan Show and The Judy Garland Show. He began earning a name for himself in television and in the 1980s, earned multiple Emmy nominations for his role on Coach.

Van Dyke's later career continued to revolve around television and stand-up, and was peppered with guest appearances on popular shows like The Middle and My Name is Earl.
He grew up in a religious family, even considering becoming a minister at one point, but decided against it. As he grew older, Van Dyke was not a part of any religious organization, but said he still believed in a higher power and would still pray.
Back to the Celebrity Faith Database