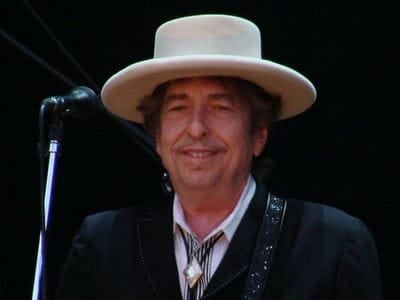 Faith:

Christian

Career:

Musician

Birthday:

May 24, 1941

Accomplishments:

Golden Globe Winner, Grammy Awards, Academy Award

Fun Faith Fact!:

Dylan has released 2 Christian gospel albums, but his religion nowadays is still up for debate.
Bob Dylan is a folk rock singer and songwriter from Minnesota whose career began in the early 1960's. He was a fan of early rock stars like Elvis Presley and Jerry Lee Lewis and became a regular in the folk clubs and coffeehouses of Greenwich Village where he met other musicians. One of his performances received a rare review in "The New York Times" newspaper and afterwards he signed his first recording contract in 1961 with Columbia Records.

In 1965, he was criticized by many of his folk music fans for his album, "Bringing it All Back Home," because it was half-electric. Over the next three decades, Dylan reinvented himself and from an acoustic/folk star to electric/acoustic. He was nearly killed in a motorcycle accident in 1966 and stopped playing for a time to recover and his works afterwards proved to be mellower than before his accident.

In 1974, he began his first full-scale tour since his accident. He reinvented himself again after his divorce from his wife, Sara Lowndes, in 1979 declaring he was a born again Christian despite his Jewish heritage. His song, titled, "Slow Train Coming," won Dylan his first Grammy Award. He toured in the 1980's with fellow legendary musicians such as Tom Petty and the Heartbreakers and the Grateful Dead. He has been continuing to create music ever since and his newest album, "Shadows in the Night," came out in 2015.
Back to the Celebrity Faith Database