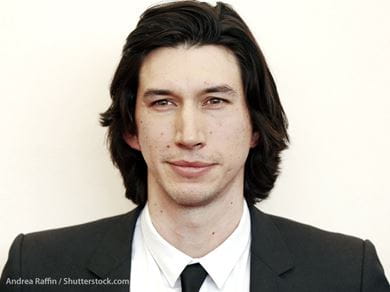 Faith:

Christian

Career:

Actor

Birthday:

November 19, 1983

Accomplishments:

Emmy Awards

Fun Fact:

He sang in the choir at his church as a child
Born on November 19, 1983, in San Diego, California, Adam Driver's journey from a small town to Hollywood stardom is an inspiring one. Raised in Mishawaka, Indiana, Driver's upbringing was far from glamorous. His father worked as a Baptist minister and his mother as a paralegal, instilling in him strong values and a sense of purpose. Growing up, Driver struggled with a speech impediment and social anxiety, which he turned to acting to overcome. After high school, he enlisted in the Marine Corps, where he served for two years before being medically discharged. Determined to pursue his passion for acting, Driver attended the prestigious Juilliard School in New York City. It was during his time at Juilliard that Driver began to make a name for himself in the theater world, earning critical acclaim for his performances. This success eventually led him to the big screen, where he would go on to captivate audiences with his intense and memorable roles.
Driver's breakout role came in 2012, when he portrayed the enigmatic and volatile Adam Sackler in the hit HBO series Girls. His raw and intense performance captivated audiences and garnered him widespread recognition. From there, Driver went on to tackle a range of challenging roles, from a ruthless villain in Star Wars: The Force Awakens to a determined detective in BlacKkKlansman, earning him numerous awards and nominations along the way.
Adam Driver Religious Beliefs
While Adam Driver is primarily known for his impressive acting skills, his Christian faith has also played a significant role in his life and career. Raised in a Baptist household by his father, who was a minister, and his mother, who worked as a paralegal, Driver was instilled with strong Christian values from a young age. Throughout his journey in Hollywood, Driver has been vocal about his faith and how it shapes his worldview. In interviews, he has discussed the importance of humility, kindness, and compassion, all of which are central tenets of his Christian beliefs. Driver's faith has also influenced his choice of roles. He has been known to take on characters who struggle with moral dilemmas or grapple with their own beliefs. This willingness to explore complex themes and portray multifaceted characters has earned him critical acclaim and solidified his reputation as a versatile actor. Outside of his career, Driver actively engages in charitable work, using his platform to make a positive impact on the world. His commitment to both his craft and his faith is a testament to his authenticity and unwavering principles. Overall, Adam Driver's Christian faith has not only shaped his personal life but has also had a profound influence on his career, guiding him in his choices and inspiring him to use his platform for good.
Back to the Celebrity Faith Database