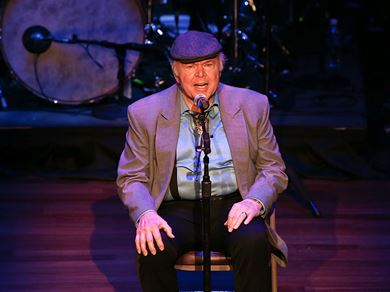 Debby Wong / Shutterstock.com
Faith:

Christian

Career:

Musician

Birthday:

April 15, 1933

Accomplishments:

Grammy Winner, CMA,

Fun Faith Fact!:

At age 15 Roy was simultaneously pursuing a sporting career, first as a baseball player and then as a boxer, before dedicating himself solely to music.
Roy Linwood Clark is most commonly known as Roy Clark. He was an American singer and musician. Born in Virginia in 1933, Clark's family moved to Washington, D.C. when he was young. Beginning first on banjo and mandolin, he began playing bars and dives in the cosmopolitan DC area. "Music was my salvation, the thing I loved most and did best. Whatever was fun, I'd go do that."
He soon went on tour with country music legends such as Hank Williams. Throughout the 1960's, Roy Clark recorded several albums, toured year round, and made several appearances on TV variety shows that were popular at the time.
Then came Hee Haw. A comedy show with country music, Hee Haw premiered in 1969 and was an immediate hit. The show launched him into stardom, and over the years he had 23 Top 40 country hits, including "The Tips Of My Fingers," "I Never Picked Cotton," "Thank God And Greyhound You're Gone," "Somewhere Between Love And Tomorrow" and "If I Had It To Do All Over Again."
Back to the Celebrity Faith Database