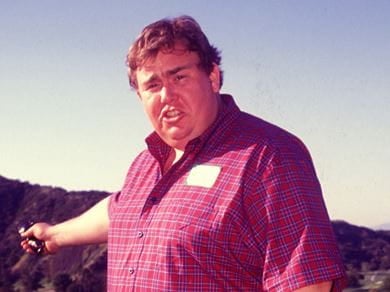 Bart Sherkow / Shutterstock.com
Faith:

Christian - Catholic

Career:

Actor

Birthday:

October 31, 1950

Date of Death:

March 04, 1994

Fun Fact:

Candy attended Catholic school and wanted to be a football player.
John Candy was a Canadian actor and comedian known for his work in Hollywood. He rose to fame in the 1970s as a member of the Toronto branch of the Second City and with films like "Stripes," "Splash," "Cool Runnings," and "The Great Outdoors." Candy is best known for his role as Del Griffith in "Planes, Trains, and Automobiles."
Outside of his acting endeavors, Candy was a co-owner of the Toronto Argonauts in the Canadian Football League. Under his ownership, the team won the 1991 Grey Cup. Sadly, Candy died at 43 years old in 1994. His last two films, "Canadian Bacon" and "Wagons East," were dedicated to his memory.
Was John Candy religious?
Candy's parents raised him in a working-class Catholic home. He studied at Neil McNeil Catholic High School in Toronto, desiring to be a football player, but a knee injury curtailed his dreams. After high school, he enrolled at Centennial College to study journalism and pursued acting.
In 2004, while filming "Wagons East," Candy died of a heart attack in his sleep at 43 years old. Candy tended to binge eat to deal with professional struggles. His funeral was held at St. Martin of Tours Catholic Church in Los Angeles. Candy was interred in the mausoleum at Holy Cross Cemetery in Culver City, California.
Back to the Celebrity Faith Database