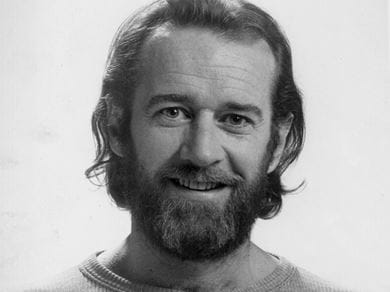 Public Domain
Faith:

Atheist

Career:

Comedian

Birthday:

May 12, 1937

Date of Death:

June 22, 2008

Fun Fact:

Carlin's first comedy special was filmed in 1977.
George Carlin was a stand-up comedian, author, social critic, and actor. Supporters dubbed him "the dean of counterculture comedians" and one of the most influential and important stand-up comedians of all time. Carlin was known for his dark comedy and ideas on religion, politics, the English language, and other taboo subjects. His "Seven Dirty Words" routine played a significant role in the 1978 United States Supreme Court case F.C.C. versus Pacifica Foundation, where a 5-4 decision confirmed the government's power to censor inappropriate material on public airwaves.
Carlin started appearing on various television specials in the 1960s and perfected his "seven dirty words" in the 1970s. Carlin died of heart failure in 2008 at 71 years old, one week after his last performance in Las Vegas. Per his wishes, his ashes were spread at various New York City nightclubs and in New Hampshire, where he discovered his love of drama.
Was George Carlin religious?
Carlin was born in Manhattan to Irish immigrants. He attended Corpus Christi School, a Roman Catholic parish school in Morningside Heights. Unfortunately, Carlin eventually left the school and rejected his Catholic faith. In his HBO comedy special "You Are Diseased," Carlin spoke about his rejection of religion, saying, "I want you to know when it comes to believing in God - I really tried. I really, really tried. I tried to believe that there is a God who created each one of us in His own image and likeness, loves us very much, and keeps a close eye on things." Carlin continued, "War, disease, death, destruction, hunger, filth, poverty, torture, crime, corruption and the Ice Capades. Something is definitely wrong. This is NOT good work. If this is the best God can do, I am NOT impressed."
Back to the Celebrity Faith Database