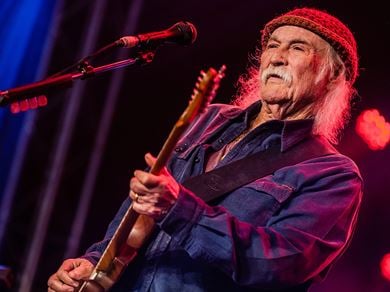 Ben-Houdijk Shutterstock
Faith:

Atheist

Career:

Musician

Birthday:

August 14, 1941

Date of Death:

January 18, 2023

Fun Fact:

David Crosby opposed religion.
David Crosby was a legendary musician. He passed away on January, 18 ,2022, following decades battling heart problems and diabetes, due to a long illness.
Crosby started his career with forming the band The Byrds. He championed a blended sound of folk, jazz, and rock that carried through his various projects. He played in Crosby, Stills, Nash & Young (CSNY) off and on for nearly 50 years.
Crosby was known for his strong views on stage that did not align always with his bandmates. He would often share his political beliefs and off-the-cuff monologues on stage questioning the Vietnam War, the Kennedy assassination, and more. Crosby stayed true to his beliefs and opinions regardless of what was popular to think at any given time. This attitude includes his opinions on religion.
David Crosby - What did he believe?
David Crosby is an athiest. He said repeatedly that he does not believe in God or a god. On Twitter, he often criticized religion and its many diverse practitioners for having strong tenants that people do not live out in their daily lives. He said, "Does anyone know of a religion that does not class women as less than men?" in one of his critiques of religious dogma as it relates to women's rights.
He wrote the song "Laughing" in response to Beatles member, George Harrison, who enthusiastically talked about his religious experiences in India while listening to a great teacher. Crosby added, "I wrote that song to tell him that. That the person I thought was the wisest I had met was a child laughing at the sun. And that I thought I could learn more from that child laughing at the sun than I could from anybody teaching."
Generally , historically ...religion has been a force for divisiveness,and destruction ..... https://t.co/vJNgLRxhku

— David Crosby (@thedavidcrosby) March 31, 2018
Back to the Celebrity Faith Database