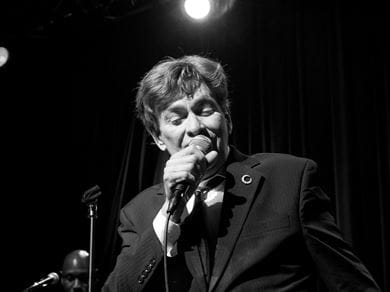 Tom Collins / Flickr
Faith:

Unknown

Career:

Musician

Birthday:

August 15, 1951

Date of Death:

March 14, 2023

Fun Fact:

Caldwell was close friends with reggae singer Bob Marley.
Bobby Caldwell was a songwriter, singer, and musician. He released several albums spanning soul, R&B, jazz, and contemporary and was best known for his versatile and soulful vocals. In 1978, Caldwell released his hit single and signature song, "What You Won't Do for Love," from his double platinum debut album "Bobby Caldwell." After several smooth jazz and R&B albums, Caldwell turned to singing standards from the Great American Songbook.
He wrote many songs for other artists, including Amy Grant and Peter Cetera. Caldwell's musical catalog is best known today for its sampling by several R&B and hip-hop artists. Caldwell was born in Manhattan but grew up in Miami. His mother sold real estate, and one of her clients was reggae singer Bob Marley. Caldwell and Marley would eventually become friends. Growing up in Miami, Caldwell was exposed to various music styles like Latin, Haitian, reggae, and R&B. His parents hosted a local variety TV show called "Suppertime."
He grew up listening to Ella Fitzgerald and Frank Sinatra. When he was 12, Caldwell started playing guitar and piano, feeling drawn to jazz, rock and roll, and R&B. He was a member of a Miami band called Katmandu who wrote their material while performing traditional standards. He played multiple instruments and sang. When he was 17, Caldwell worked with the band in Las Vegas, then moved to Los Angeles. He got his first career break as a guitarist for Little Richard in the early 1970s. Eventually, he and his band left Little Richard, and Caldwell went solo.
By 1977, he spent six years in Los Angeles playing in different bar bands and trying to get a record deal. Eventually, he signed with TK Records in Miami in 1978. After he recorded songs for his first album, executives told Caldwell that they liked his album but felt it lacked a hit. He returned to the studio for two days and wrote "What You Won't Do For Love." In March 2023, Caldwell died at his home in New Jersey at 71. According to his wife, Caldwell's health declined after suffering severe side effects from fluoroquinolone in 2017.
Was Bobby Caldwell religious?
Bobby Caldwell never talked about his religion with the public. Due to that, it's unknown whether he was religious or not. However, Caldwell had a great belief in God and rather than sharing his thoughts with the media, he mainly preferred to keep them private.
Back to the Celebrity Faith Database