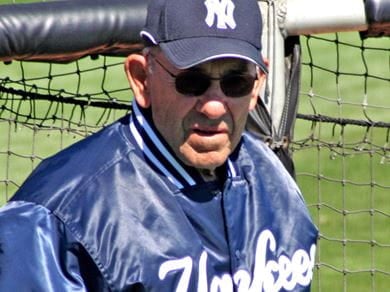 Googie man / Wikicommons
Faith:

Christian - Catholic

Career:

Athlete

Birthday:

May 12, 1925

Accomplishments:

World Series

Fun Faith Fact!:

Got the nickname "Yogi" while playing baseball for an American Legion team because a friend said he resembled a Hindu yogi when he sat with his arms and legs crossed while waiting to bat.
Lawrence "Yogi" Berra was born to immigrant parents, who moved from northern Italy to the southern section of St. Louis, Missouri, known as "The Hill", and made famous by explosion of Italian settlers due to its deep Roman Catholic roots and ample available work. His neighborhood, and even his street, birthed many famous baseball players, which is likely why St. Louis is to this day considered a "Baseball Town". Good friend Joe Garagiola grew up across the street – and for these two, plus Jack Buck, that the street has been re-named "Hall of Fame Place". Berra began playing baseball for his local American Legion league, learning the basics of the game, and received his nickname from friend Bobby Hofman, another baseball legend and famous St. Louis teammate. He attended South Side Catholic School, but left after 8th grade, a fact well understood from his oft-confusing yet witty paradoxical quotes, like "Nobody goes there anymore; it's too crowded," a reference to a restaurant he worked at as a teenager. He and his wife were longtime residents of New Jersey, and had 3 sons - 2 of which are also professional athletes. Ypgi was a regular at the 5:30 Mass at the Church of Immaculate Conception in his Yankees windbreaker.
Back to the Celebrity Faith Database