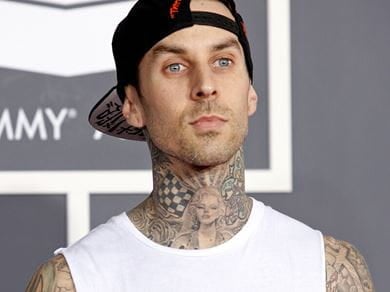 Joe Seer Shutterstock
Faith:

Christian - Catholic

Career:

Musician

Birthday:

November 14, 1975

Fun Fact:

Baker was one of two survivors of a 2008 plane crash. He had a horrible fear of flying for years and during his teenage years had been utterly convinced he would die in a plane crash.
Travis Barker began taking drumming lessons when he was five years old. As he grew older, he took an interest in other instruments and singing as well as exploring non-musical pursuits such as skateboarding and surfing. He always "migrated back to drums, though" and felt they were the best way to express himself. Barker achieved mainstream success with Blink. Their song "All the Small Things" reached number 6 on the Billboard Hot 100 chart.
Is Travis Barker religious?
Despite his rough appearance, Travis is a devout Christian. He was raised by religious parents and identifies as a Catholic. He attributes his successes in life to God and also specifically mentions God's hands in helping him survive a horrific plane crash in 2008.
Recently, Kourtney and Travis got married in Italy in a pristine Catholic chapel and the couple revealed to reporters on their religious habits which include prayer, scripture study, and occasional church attendance.
Fun facts about Travis Barker
- He has a tattoo of the Virgin Mary on his forearm
- Travis prays often and attends church, at times
- His dad is a Christian and his Mom Jewish
- Quiet about his beliefs and does not force religion on other people
Back to the Celebrity Faith Database