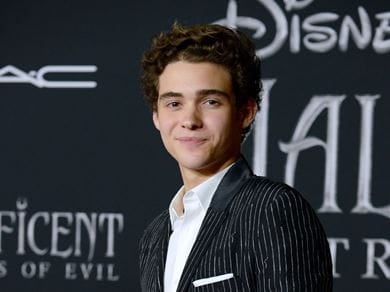 Featureflash Photo Agency / Shutterstock.com
Faith:

Christian

Career:

Actor

Birthday:

December 22, 2000

Fun Fact:

Bassett got baptized in February 2023.
Joshua Bassett is a singer and actor best known for his role as Ricky Bowen in "High School Musical: The Musical: The Series" since 2019 and its accompanying soundtracks. He was born and raised in California to his parents, Laura and Taylor. He has five sisters and was home-schooled. Bassett was first introduced to musical theater at eight years old, ten years before he starred as Ricky Bowen in a community theater production of "High School Musical on Stage!"
Since then, Bassett has starred in more than 30 musical productions. When he was 16, he moved to Los Angeles to start acting, living in his car for a while to get by. From 2017 to 2018, Bassett appeared in episodic roles in the TV shows "Game Shakers," "Lethal Weapon," and "Dirty John." His first significant role came in early 2018 when he starred as Aiden Peters in the last season of the Disney Channel series "Stuck in the Middle." In October 2018, it was reported that Bassett was cast in his first major role as Ricky Bowen on "High School Musical: The Musical: The Series."
In 2020, Bassett signed with entertainment and talent company United Talent Agency and a recording contract with Warner Records. He released his debut single, "Common Sense," on music platforms in April 2020. Later that month, Bassett appeared in the TV special "The Disney Family Singalong," where he performed "We're All In This Together" from "High School Musical" with the film's cast.
Is Joshua Bassett religious?
Bassett identifies as a Christian. Bassett boldly proclaimed his faith at the Nickelodeon Kid's Choice Awards, reminding his fans that God loves them. During his acceptance speech for the Favorite Male TV Star Award, the actor said, "I'd love to thank my Savior, Jesus Christ. I want to say something. There are a lot of people here who are burdened, broken-hearted, and have been beaten down by life."
Bassett continued, "I'm here to tell you: for those of you who've lost hope, there's a very real God who loves you more than you will ever possibly know. His promise is peace, and my testimony is my healing." He concluded the speech by saying, "Remember: Forgive quickly, love freely and walk courageously. Love always wins in the end."
Bassett got baptized at Bethel Church in Redding, California, after professing his faith in Christ. He told the church, "My name is Joshua. Long story short, I grew up Christian, and I ran the other way, as far as I could go, in pursuit of the 'truth.'" He continued, "That only ended in addiction, depression, suicidal ideation, eating disorders, etc. No other teacher gave me anywhere near the peace that Jesus Christ did, and I'm here to declare Him as my Lord and Savior publicly."
Back to the Celebrity Faith Database