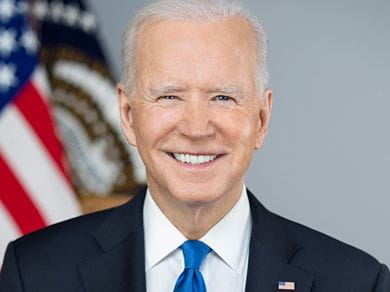 Public Domain
Faith:

Christian - Catholic

Career:

Politician

Birthday:

November 20, 1942

Accomplishments:

american president, Senator, Vice President

Fun Fact:

President Biden is

the second Catholic President after John F. Kennedy.
Joseph Robinette Biden Jr. is an American politician who is the current President of the United States. His first major role in government was serving as one of Delaware's Senators from 1973 to 2009. He later assumed office as the 47th vice president from 2009 to 2017 under former President Barack Obama. In 2020, he ran against the former incumbent Donald J. Trump and won the election to be the 46th President of the United States.
The American politician was born and raised in Scranton, PA, and later moved to New Castle County, DE. The ambitious student attended the University of Delaware and went on to earn his J.D. from Syracuse University in 1968. In 1972 he became the sixth youngest senator in U.S. history after becoming elected by Delaware voters to the United States Senate at 29 years old.
Biden and his running mate, California Senator Kamala Harris, won the 2020 election over former incumbent President Donald Trump and former vice president Mike Pence in the 2020 presidential election. Biden's victory and assumption to the office were historic for many reasons. Biden is the oldest U.S. president, the first to have a female vice president, the first President from Delaware, and the second Catholic President after John F. Kennedy.
President Biden has expressed that his Catholic faith helped him survive and heal from the death of his first wife and their daughter in the fatal car crash that devastated their family in 1972.
In his speeches that aim to foster inspiration or comfort, it is evident that he turns to scripture and his faith. In tough times he uses Bible verses and other references to God in his national addresses.
For instance, in his Presidential acceptance speech, Biden quoted scripture from the book of Ecclesiastes outside Chase Center in Wilmington, stating, "The Bible tells us that to everything there is a season — a time to build, a time to reap, a time to sow. And a time to heal. This is the time to heal in America."
Back to the Celebrity Faith Database