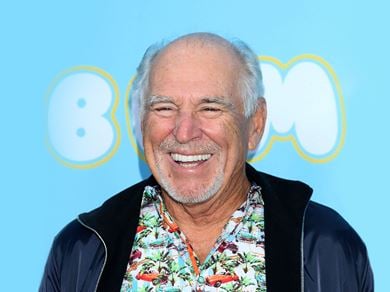 Kathy Hutchins / Shuttestock.com
Faith:

Catholic

Career:

Musician

Birthday:

December 25, 1946

Date of Death:

September 01, 2023

Fun Fact:

Buffett's "Margaritaville" is considered the most lucrative song ever written.
Jimmy Buffett was an iconic singer-songwriter, actor, and author who entertained audiences around the world since the 1970s. He was best known for his laid-back lifestyle, Caribbean-influenced music, and being an avid fan of all things tropical.
The early years of Jimmy Buffett's life were spent in Alabama, where he was born and raised. Growing up in a small town, he developed a love for music at a young age. He was influenced by his mother, who was a talented pianist, and his father, who was an avid music lover. Jimmy's passion for music grew stronger as he played in local bands and learned to play various instruments. However, it wasn't until later in life that he would find his true calling as a singer-songwriter.
Jimmy Buffett's journey to finding his voice as a singer-songwriter was not a linear path. After dabbling in various local bands during his early years, he took a detour and pursued a career in journalism. However, his passion for music never faded, and he eventually found his way back to his true calling. In the 1970s, Buffett released his debut album, which received moderate success. It wasn't until the release of his breakout hit, "Margaritaville," that his career skyrocketed. The catchy tune resonated with audiences, capturing the carefree spirit that would become synonymous with Buffett's music. From there, he continued to release chart-topping hits and become a staple in the music industry.
From the release of his breakout hit "Margaritaville," Jimmy Buffett's music career skyrocketed to new heights. This catchy tune not only captured the hearts of fans but also became an anthem for the carefree spirit that Buffet embodies. The success of "Margaritaville" paved the way for a string of chart-topping hits and iconic moments in Buffett's career. Songs like "Cheeseburger in Paradise," "Fins," and "Changes in Latitudes, Changes in Attitudes" further solidified his status as a musical legend. Buffett's live performances are legendary as well, with his annual summer tours attracting devoted fans, known as Parrotheads, who flock to his shows to soak up the tropical vibes and enjoy the ultimate party atmosphere. Beyond the music, Buffett's impact extends to his business ventures, including the popular Margaritaville brand, which encompasses restaurants, hotels, and even a Broadway musical.
Buffett passed away September 1, 2023 at the age of 76. When asked by Rolling Stone in 2019 how he'd like to be remembered, he replied, "'He had a good time and made a lot of people happy' would be good." Buffett was survived by his wife, Jane; their daughters Savannah Jane and Sarah Delaney; and their son, Cameron Marley.
Jimmy Buffett's Religious Beliefs
Faith played a significant role in Jimmy Buffett's life, with his Catholicism serving as a source of inspiration and strength. Despite his laid-back persona and carefree lifestyle, Buffett often spoken about the importance of his Catholic faith in grounding him and providing a sense of purpose. He credited his upbringing and the values instilled in him by his family and the Church for shaping his character and influencing his music. Buffett's faith can be heard in his songs, as he often explored themes of gratitude, redemption, and finding peace amidst the chaos of life.
Back to the Celebrity Faith Database