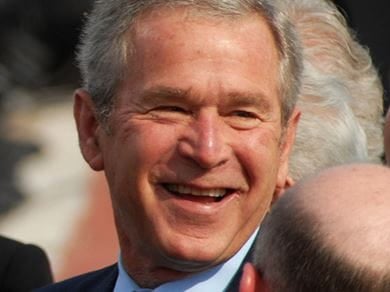 ChameleonsEye / Shutterstock.com
Faith:

Christian

Career:

Politician

Birthday:

July 06, 1946

Accomplishments:

The President

Fun Fact:

In 1985 Bush became born again as an evangelical Christian with the counsel of Billy Graham.
George Walker Bush is an American businessman and politician. He was born on July 6, 1946, in New Haven, CT. Bush is most known for being the 43rd president of the United States, serving from 2001 to 2009. He is a member of the Republican Party and the prominent Bush family. From 1995 to 2000, he also served as the 46th governor of Texas.
His 2000 electoral college win was one of the narrowest election wins in US history. As President during the 9/11 terrorist attack events, Bush's leadership was put to the test like never before and the response led to the Iraq War.
Bush was born in New Haven, CT and raised in Midland, TX. He played many sports growing up including baseball, football, and basketball. In school, he was known to be quite the troublemaker. Despite his rocky disciplinary past, he went on to attend Yale University in 1964. Bush deferred the draft while in college, but two weeks prior to graduation he enlisted in the Texas National Guard during the peak of the Vietnam War. After being honorably discharged in 1974, he completed Harvard Business school in 1975. In 1977 he wed Laura Welch. He credits her to restoring order to his previously alcoholic life since he joined the United Methodist Church right after marrying her.
In 1985, In 1985 Bush became born again as an evangelical Christian with the counsel of Billy Graham. Bush became born again as an evangelical Christian with the counsel of Billy Graham. However, the veteran preacher gave a concise warning for the politician: "Never play God."
Bush once stated to an Amish group in Pennsylvania, "I trust God speaks through me. Without that, I couldn't do my job."
Another instance of Bush declaring his faith in Jesus was during his 2000 campaign. When asked to name his favorite "philosopher-thinker," former President Bush responded, "Christ, because he changed my heart."
Back to the Celebrity Faith Database