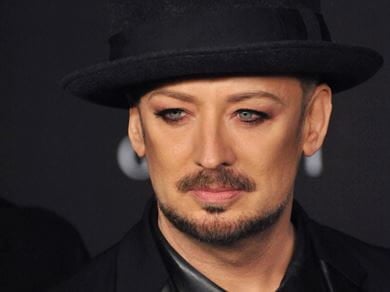 Faith:

Buddhist

Career:

Musician

Birthday:

June 14, 1961

Fun Faith Fact!:

Boy George may be one of the most interesting looking Buddhists of all-time
When the British band Culture Club hit the new wave scene, they soon were a success both in their homeland and across the pond. Its gender-bending lead singer, Boy George, was among the most recognizable faces of the 1980s with his elaborate eye make-up and long hair laced with colorful ribbons.
Is Boy George Religious?
Boy George grew up in a Catholic home, however he told HuffPost, "I always say i'm Catholic in my complications and Buddhist in my aspirations." At the age of 25, he told People magazine that he'd begun Buddhist chanting to find comfort in his highly publicized run-ins with the law. Per comments on his Twitter account, the singer remains a devoted Buddhist. He credits his meditations and Buddhists beliefs for helping him stay sober and overcome a heroin addiction. He has also given up meat, sugar, and alcohol.
Back to the Celebrity Faith Database