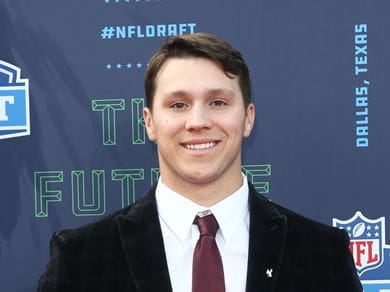 Debby Wong / Shutterstock.com
Faith:

Christian

Career:

Athlete

Birthday:

May 21, 1996

Fun Fact:

Allen said he had a spiritual awakening after his teammate collapsed onfield.
Josh Allen is a quarterback for the Buffalo Bills. He played college football at Reedly College before transferring to the University of Wyoming, where he was a bowl game MVP and was selected seventh overall by the Bills in the 2018 NFL Draft.
Allen had a breakout season in 2020 when he led the Bills to their first division title and playoff victory since 1995 en route to an AFC Championship Game appearance. Allen also set the Bills franchise records for single-season passing yards and touchdowns while earning second-team All-Pro and Pro Bowl honors. During his Buffalo tenure, he's led the team to four playoff appearances, three division titles, and four postseason victories.
Allen grew up on a 3,000-acre farm near Firebaugh, California, a small town about 40 miles west of Fresno, California. His family has lived there since his great-grandfather, who emigrated from Sweden in 1907, settled there during the Great Depression. The farm where he was raised was established in 1975 by his paternal grandfather, a longtime member of the local school board and namesake of the gym of Firebaugh High School, where Allen graduated in 2014.
Growing up as a Fresno State fan who regularly attended football camps and games, Allen tried to draw the interest of the program's coaching staff. His father tried to sell the Bulldogs' head coach on him, but the coach chose not to offer a scholarship. Unfortunately, the coach wasn't alone in his assessment; Allen received no scholarship offers from any NCAA Division I program, whether in the top-level FBS or second-tier FCS. San Diego State made him an offer to walk on, but Allen turned it down because he couldn't be guaranteed any playing time.
Is Josh Allen religious?
Josh Allen identifies with the Christian faith. He said his family attended a Methodist church many Sundays, but he wanted to leave to get home and watch football, specifically the San Francisco 49ers. However, he said he hasn't attended church much since becoming an adult.
In an interview, Allen said, "It's been so long since I've actually been to church. I went this last offseason one or two times, but not as much as maybe I should. But again, I think this conversation that we're having right now, we've had all these conversations in our locker room. It's been really cool to see how guys have been moved and touched by this whole instance and situation and to see the country come together in support for Damar and maybe having those talks."
Back to the Celebrity Faith Database