Marcus Goodyear, one of my friends and colleagues who works for The High Calling of Our Daily Work, (he's also a fine blogger!) has completed a two-part interview with Micheal Flaherty, the president of Walden Media. (Note: Micheal is the right spelling.) This company is best known for producing (along with Disney) The Chronicles of Narnia films. The next installment in this series, Prince Caspian, comes out in just three weeks (May 16). You can view the trailer here. It will get your blood pumping! (Photo below: A scene from the trailer.)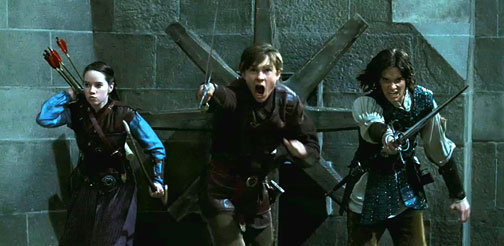 Here's an excerpt from Marcus's interview:
In Philippians, Paul says to focus on whatever is true, noble . . . What do you do when you have a story that has moments of ugliness and things that aren't noble? How do you make decisions about that?
Paul didn't shy away from the fact that the human heart is capable of every darkness. To appreciate Paul, and to appreciate the wisdom in that saying, is to appreciate where he had been in his life. Paul would not be as interesting and compelling a character if we didn't understand what got him to that point of wisdom. I think that in order to understand the true and the noble, you have to have glimpses of their counterparts. I think that it's critical for all of us to recognize that nothing is beyond reconciliation and nothing is beyond redemption. So, even if we've gone to those dark places, or those places that are less than noble, or less than praiseworthy, we have that ability to be the creation. I think that's one of the problems, so many people feel that's beyond them. When you talk about things like praiseworthy and noble and good, what about the people who feel like they can't reclaim that or recapture that, because they've experienced so much that's counter to that and so much that's opposite that? I think people need to know that the praiseworthy, the good, and the noble are always within our reach, regardless of where we've been. (Photo: Micheal Flaherty)
You can find the rest of the interview here: Part 1; Part 2.
Thanks, Marcus, for your great work.