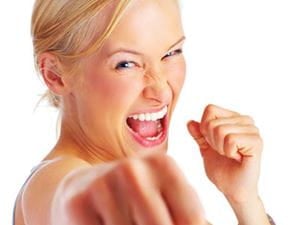 Are You Stuck in a Rut and Can't Get Up?
Reprinted with permission from Listen: Trusting Your Inner Voice in Times of Crisis, by Lynn A. Robinson, published by Globe Pequot Press (2010).
"I don't know what to do." "I feel stuck." "I'm in a rut." Those are words I hear frequently from clients. Life feels stalled. All those big hopes and dreams you once had for yourself seem like they're on a distant horizon or even in another universe altogether. How do you begin to get yourself going again? Your inner wisdom can help!
Intuition is an infallible guide for letting you know when you need a change and also what direction to take. Here's an easy way to think about it… If you feel excited, interested or passionate about something, that's your intuition.
Conversely, if you feel bored, uninterested, and/or drained by something, that's your intuition communicating change is needed. Go in a new direction.
How about you? Here's a list of questions to ask yourself.
I want to be in a different job next year.
I like my career, but feel I'm in the wrong position.
I long for the weekends when I can work on
my hobbies or other interests.
There are other career choices that have always
fascinated me and I'd like to check them out.
I need to find something new that's fresh
and creative.
I feel I've done everything I can to change a
bad relationship. I'm convinced it won't get better and yet
I can't seem to leave.
My work has become predictable and boring.
I have other interests but I never or rarely
pursue them.
I hardly ever have time for creative or spiritual pursuits.
I find myself daydreaming a lot about
switching careers.
I don't like where I am in life, but I also don't know
what I want either.
I think about change, but I get stuck in inaction.
I feel excited about a new career direction but
can't figure out a way to earn a living at it.
I long for a way to make a contribution to my
community but don't feel I can do it in my present work.
My life feels out of balance. (Too much work and
not enough time for family, social and personal time.)
I'd like to move, but I don't know where I'd go.
I'm ready to work for myself. (Or, if you're already an
entrepreneur…) I'm ready to work for someone else.
If you answered "yes" to most of the questions, you're definitely in a rut.
Begin to think about what's interesting to you and what you can let go of in order to make room for something new.
Acknowledge it's time for a change. — You don't need to give up a job, career or relationship right now as the result of this insight. Just let yourself get used to the idea that you want to change and you're simply exploring new directions. Consider letting friends and appropriate colleagues know what you're thinking and feeling. They may see that you possess strengths, skills and interests that you haven't acknowledged in yourself.
Give yourself a period of information gathering time. — Depending on your situation, this can be a few weeks to a few years. You're using this time to consult your inner compass, your intuition. Of the possibilities in front of you, what feels exciting? Within your dreams, interests and aspirations you'll find opportunity. It's as if your intuition gives you clues about the best path to follow even though your limited logical mind may not know where you're headed!
Commit to taking action steps. — What are three things you could do this month that would give you information about your interest? Perhaps you could research it on the web, read a book or make an appointment with a career coach. It doesn't have to be a huge risk. When you commit to action, your intuition can begin to guide you. It puts options, possibility and hope in your path.
Ask your intuition open-ended questions — These might include "What would I enjoy doing for work?" "What next steps can I take that will lead me in the right direction?" "Who can I talk with that will help me with these choices?" "What could I do that would help others and be fun for me?" As you go about your day, pay attention to any inner nudges or impulses from your intuition that points you in a new direction.
Stop saying, "I don't know" and "I'm stuck." — There is part of you that does know and it's providing information right now to help you move towards something fun, interesting, exciting and successful. It's your intuition. If the words "I'm stuck" or something similar are in your mind and endlessly repeating themselves, try replacing them with "I'm getting clearer" and "New ideas are coming every day and I'm looking forward to following up on them."
What do you do if you determine you're off track? As Yogi Berra said, "If you come to a fork in the road, take it!" What are you doing that's on the mark? If one way doesn't work for you, be ready to go another. Many times, the road to success is found by taking a detour. Sometimes we get overly focused on getting to our goals through a well-trodden or familiar path. A crisis is one of the ways that the Universe can show you a new direction. If you can say, "yes" to the alternative route in front of you, you may find a wonderful new vista opening up that's full of opportunity.
Lynn A. Robinson, M.Ed., is a leading expert on the topic of intuition. Through her work as an intuitive consultant she's helped thousands of people discover their life passion and achieve their goals. Voted "Best Psychic" by Boston Magazine, she's also a bestselling author whose books include LISTEN: Trusting Your Inner Voice in Times of Crisis, The Complete Idiot's Guide to Psychic Intuition and Trust Your Gut. She writes a free, highly popular Intuition Newsletter. Her website is http://LynnRobinson.com.
Blogs: http://lynnrobinson.com/blog/
Video meditations and intuition/life tips:
http://lynnrobinson.com/category/video/
Articles: