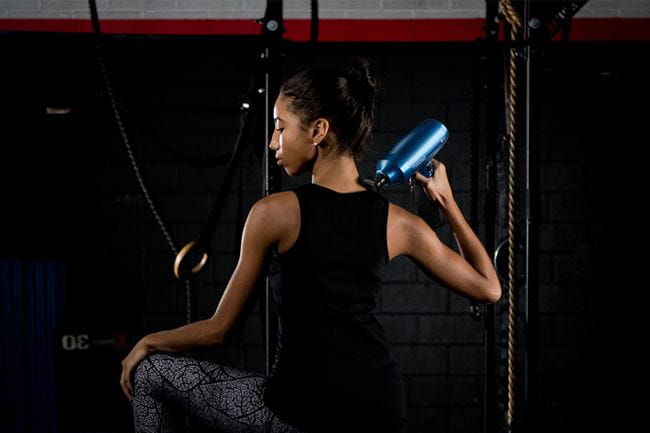 FusionX
These products were selected by StackCommerce, which created these articles. The products are not endorsed by the Beliefnet editorial team. If you buy something through these links, Beliefnet may get a small share of revenue from your purchase.
Physical pain and emotional pain are not as distinct as you might believe. Anti-inflammatories, such as Advil, have been shown to treat mental health issues. This makes sense, given that inflammation plays a role in depression, immune functioning, sleep, impulse control, and overall mood.
Taking care of your body is taking care of your mind, and vice-versa. If you're in need of real relief during this emotional time, the FusionX Heated Massage Gun is for you.
This unique massage gun features heated vibration technology that penetrates your muscles and fascia, getting into areas that are normally hard to reach. The result: your body regenerates cells and repairs itself.
The massage gun is for every situation. Athletes use it as part of their post-workout recovery sessions. Desk workers love the stress relief from stiff muscles. People on their feet all day have a heated foot massage waiting for them at home.
The FusionX Heated Massage Gun relieves sore muscles, relaxes stiff joints, and calms muscle spasms. Built with a rechargeable lithium-ion battery, you'll enjoy five hours of expert, precise massage on a single charge. With five different speed settings, you'll find the perfect pressure for every part of your body.
With a 4.8/5-star rating on Amazon, one user writes, "I am EXTREMELY satisfied with the Fusion X Heated massage gun! This is the second Life Pro massage gun I own and my wife and I are personal trainers who both workout 4-6 days per week."
Commit to healing today.
Watch the FusionX Heated Massage Gun in action:
FusionX Heated Massage Gun - $199.99
FusionX Heated Massage Gun is on sale now for just $199.99, a 33 percent discount from the list price.
Price subject to change.