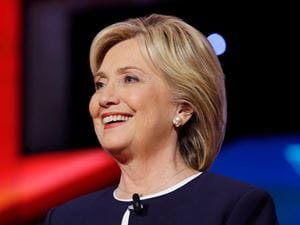 Josep Sohm/Shutterstock.com
Like her husband Bill Clinton, Hillary is not a person who will leave the public eye softly. Despite a hard landing with a presidential loss, Hillary Clinton could be plotting her return to the spotlight. In fact, she's already started. Clinton was the focus of the Book Expo America conference to address her children's adaption of the 1996 book It Takes a Village. She assured the audience she's not going anywhere and by listening to her, the ardor very much remains. When asked about her forthcoming plans she explained she will do anything to support the resistance of President Donald Trump. "I'm not going anywhere. I'm going to be as active as I can. That's who I am. That's in my DNA."
As Secretary of State, Clinton's foreign policies were controversial. She was a cheerleader in overthrowing governments friendly to the United States such as Egypt and supporting the rise of the Muslim Brotherhood. Despite the criticism and her performance in politics, Clinton is a tough act and people gravitate towards her for this reason. Call her obstinate, made of Teflon or resolute, Clinton will not go away. Here's what's next for the former senator from New York.
Pastor Clinton?
Clinton has a long history of being involved in the Methodist Church and has considered serving in ministry for over 20 years. Her pastor Bill Shillady was instrumental to her during the campaign. He's releasing a book with daily devotionals sent to her during the 2016 presidential bid titled
Strong for a Moment Like This.
Shillady would get up at 4 a.m. to pick out Scriptures and write a quick devotional for the parishioner. For example, one suggested Scripture was Galatians 6:9. "Let us not become weary in doing good, for at the proper time we will reap a harvest if we do not give up," The
Atlantic
reported Clinton mentioned she wanted to preach. "We have a long history of lay preachers in the United Methodist Church," he said. Additionally, more than 100 women clergy formed a group called "We Pray for Her" to support Clinton's presidential bid.
She's still politically active.
Clinton reportedly is looking for opportunities to work with Organizing For Action, former President Barack Obama's initiative. "Despite the grave disappointment, resilience is in the Clintons' DNA," Mack McLarty, Clinton's first White House chief of staff, shared with Politico. "So, while I certainly don't expect to see them trying to assert their authority, I think there will be natural and welcome opportunities for them to engage." It was rumored Clinton would run to be the mayor of New York City and challenge Mayor Bill de Blasio. The rumors were groundless as the deadline for the Democratic primary was on July 1. But don't disregard her from running for office in some fashion in the future.
She's writing more books.
Clinton is releasing a new book
What Happened
regarding her defeat to Trump. "In the past, for reasons I try to explain, I've often felt I had to be careful in public like I was up on a wire without a net. Now I'm letting my guard down," the introduction of the book reads. Clinton explains what it was like to run against Trump, the mistakes she made, how she has coped with a shocking and devastating loss and how she found the strength to pick herself back up afterward. She speaks about the challenges of being a strong woman in the public eye, the criticism over her voice, age and the double standard confronting women. Clinton will embark on a 15-city tour to promote the book that releases on Sept. 12.
She's will be giving speeches.
Hillary Clinton does give speeches and addressed her alma mater, Wellesley College, by taking shots at Trump. "When people in power invent their own facts and attack those who question them, it can mark the beginning of the end of a free society," she said. "That is not hyperbole; it is what authoritarian regimes throughout history have done. They attempt to control reality." Clinton also gave speeches for the American the Secretaries of State Project, Children's Health Fund Annual Benefit, Planned Parenthood Gala, Women for Women International Luncheon, Angie's List Fundraiser, Society of Irish Women St. Patrick's Day Dinner and spoke to students at Medgar Evers College in 2017.
She will be relaxing for now.
Clinton has been hiking in the woods in Chappaqua, NY and enjoying life post election. She's been seen shopping in New York City on Madison Avenue and was observed taking it easy at local bookstores. Clinton has been spotted dining with designer Ralph Lauren and having breakfast by herself at Mohonk Mountain House in New Paltz, NY.
We know Clinton will be with us for the long haul. Whether she's on a book tour, reenters politics or giving a speech, her doggedness to not quit keeps her relevant.