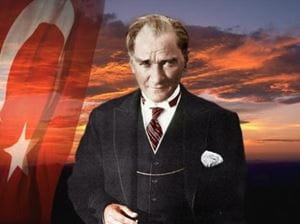 Turkey – for almost a century the most secular and moderate nation in the Muslim world – seems to be flirting with its Islamic caliphate roots and dreaming of the Ottoman Empire's glory days, jihad, conquest and superiority over the "infidel" West.
Turks are being prosecuted for publishing "tweets" on Twitter that are "insulting to Islam," despite the Turkish constitution's guarantees of religious freedom. Christians are increasingly marginalized. Bureaucrats routinely block the building of churches.
Historically, Turkey played a significant role in early Christianity. It was the focus of much of the Apostle Paul's missionary work. His Epistle to the Ephesians was written to Turks. However in 1299, the country was conquered by Islamic armies and its population converted to Islam. Constantinople, the center of the Eastern Orthodox church was renamed Istanbul and became the guardian of Islam's holiest sites for almost a milennium. Today, approximately 96.6 percent of Turkey's population is Muslim.
The seven churches mentioned in the Apostle John's Book of Revelation – Ephesus, Smyrna, Pergamon, Thyatira, Sardis, Philadelphia and Laodicea – are all in Turkey, but no longer have congregations because their Greek Christians were deported in 1923 under the Convention Concerning the Exchange of Greek and Turkish Populations signed by the two countries.
Officially Turkey is a secular state. For centuries, it was the seat of the worldwide Islamic caliphate. But the Ottoman Empire grew corrupt and decadent – stretching from Europe to Africa, from India to Greece – and including Egypt, Iraq, Israel, Syria and Saudi Arabia. Turks were the guardians of Mecca, Jerusalem, Baghdad, Bethlehem, Medina, Damascus and Cairo.
When the Ottoman Empire collapsed after losing World War I, Britain and France — the Crusaders of medieval times – split up the empire and took control once again of the Holy Land. In Anatolia, a patriot Mustafa Kemal renamed himself "Atatürk," or "Father of the Turks" and embarked on a program of political, economic and cultural reforms of the Turkish homeland. He dreamed of a westernized and secular nation that no longer claimed to be the protector of Islam's holiest sites nor the center of the Caliphate.
Following Atatürk's dream, Turkey spent the last century officially secular – the only Middle Eastern state granted membership in NATO or allowed to apply to join the European Union.
But, Islam predominates. Laws are blatantly biased against non-Muslims. For example, the few church buildings that exist are not allowed to exceed certain heights – in stark contrast to the massive hilltop mosques that dominate the Istanbul skyline. The Turkish constitution guarantees freedom of religion, however Christian worship services are only permitted in "buildings created for this purpose," and no new church buildings have been allowed in decades. The few Turks who dare to openly profess Christ face harassment, threats and imprisonment. Most churches are surrounded by high walls and protected by 24-hour guards.
Semir Serkek, a 58-year-old pastor in the Turkish capital, tells how he has experienced hostility from Muslims nearly all his life. However, an attack over the 2012 Easter weekend was the first time he had been physically assaulted.
He was alone at Istanbul's Grace Church preparing for the next day's Resurrection Sunday celebrations when he heard frantic pounding at the door. Four young men in their late teens claimed they had questions and demanded to enter. They then threatened to kill him if he didn't convert to Islam right there by reciting the Islamic confession of faith, the Kelime-i-sehadet.
"I received a severe blow to my chest," Serkek told Istanbul's Hürriyet Daily News. After verbally harassing the pastor, one of the men
knocked him down a set of stairs. The men then ran away laughing.
However, the attack did not deter Semir from attending a memorial service for Necati Aydin and Ugur Yuksel and Tilmann Geske. Serkek had also served as a mentor to the three young Christian men who were gunned down for printing Christian literature at Turkey's small Malatya Zirve Publishing House. Extremists bragged in the media of the killings.
The United States Commission on International and Religious Freedom has recommended that Turkey be designated as a "Country of Particular Concern." In particular, the commission cited Turkey's long-term and systematic limitations on non-Muslims – disturbingly similar to Pakistan and Iran.
In 2006, two Christian men were charged with "insulting Turkishness, the military and Islam." Their offense? They were preaching Christianity. Four years later, a Turkish court finally acquitted them but fined them $3,200 each anyway.
In April 2007, three members of the Malayta Kurtulus Church were tortured and killed by a group of five Muslims. The trial of their five alleged murderers continues.
On May 23, thousands of devout Muslims prayed outside Turkey's historic Hagia Sophia museumto protest Atatürk's 1934 law that bars any religious services at the former church and mosque. Worshippers shouted, "Break the chains, let Hagia Sophia Mosque open," and "Allahu Akbar" (God is great) before kneeling in prayer as tourists looked on.
The vast, domed building was built in the 6th Century and was the world's largest Christian cathedral for almost a thousand years before Turkey was invaded by Muslims in the 15th century. The church was then converted to a mosque.
Now, "Christian clerics are alarmed at growing threats, persecution in Turkey," reports Istanbul's Hürriyet Daily News: "Christian clerics in Turkey have expressed their anxiety regarding the growing threats they face" in the wake of the Easter attack on Serkek.
"Attacks against Christian clerics drop off for a while, then they begin to re-energize. Such attacks have begun to accelerate again in recent days. We hesitate when opening our doors and welcoming the faithful inside," said Pastor Krikor Aðabaloðlu of the Gedikpaþa Armenian Protestant Church.
Pastor Orhan Picaklar of the Agape Protestant Church in the Black Sea province of Samsun also said he has been living with a personal escort 24 hours a day for the past four years, since a plot to assassinate him first came to light. "Police officers keep watch at the door during services. Worshipers are afraid to enter the church due to the threat to their lives," he said.
Aðabaloðlu said Turkish officials hve refused to grant permission for the construction of a church building. "They are trying to stymie the
spread of Christianity in this way," he said.
The nearby enormous Hagia Sophia – Greek for "Holy Wisdom" – was Christendom's greatest cathedral. Built in Constantinople, the heart of the Christian empire, it was also a stalwart symbol of defiance against an ever-encroaching Islam from the east. After fighting off centuries of jihadi attacks, Constantinople was finally sacked by Ottomans in 1453. Its crosses were desecrated and its icons were defaced. It and thousands of other churches were immediately converted into mosques, the tall minarets of Islam surrounding them in triumph.
However, Atatürk transformed the Hagia Sophia into a "neutral" museum in 1934.
Turkish Christians say they are content seeing the building remain a museum, including the Ecumenical Patriarchate, spiritual leader of Orthodox Christians: "We want it to remain a museum in line with the Republic of Turkey's principles," adding, "if it became a church it would be chaos."
Indeed, in 2006 Pope Benedict was scheduled to visit the site, but extremists were outraged. The Turkish newspaper Vatan reported: "The risk is that Benedict will send Turkey's Muslims and much of the Islamic world into paroxysms of fury if there is any perception that the Pope is trying to re-appropriate a Christian center that fell to Muslims."
Just before the Pope's visit, a mob briefly occupied the building, screaming "Allahu Akbar!" and chanting "Pope! Don't make a mistake; don't wear out our patience." On the day of the Pope's visit, another throng of Islamists waved banners saying "Pope get out of Turkey" while chanting "Hagia Sophia is Turkish and will remain Turkish."
"This is not about Muslims wanting to pray," observed journalist Jay Tower. "It's about Muslims wanting to revel in the glory days of Islamic jihad and conquest." Indeed, the recent prayers at the Hagia Sophia was staged just ahead of celebrations marking the 559th anniversary of the Ottoman Sultan Mehmet's conquest of Christian Constantinople.
According to Salih Turhan, a spokesman quoted by the British news agency Reuters, "As the grandchildren of Mehmet the Conqueror, seeking the re-opening Hagia Sophia as a mosque is our legitimate right."
Sultan Mehmet was the scourge of European Christendom. It was his Islamic hordes who seized and ravished Constantinople. However, Turhan, whose position is echoed by many Turks, manages to blame the West: "Keeping Hagia Sophia Mosque closed is an insult to our mostly Muslim population of 75 million. It symbolizes our ill-treatment by the West."
Such talk surely would cause Atatürk to turn in his grave.
"My people are going to learn the principles of democracy, the dictates of truth, and the teachings of science," he declared upon founding the
Turkish state. "Superstition must go. Let them worship as they will, every man can follow his own conscience provided it does not interfere with sane reason or bid him act against the liberty of his fellow men."
His legacy is largely being ignored, writes journalist Barry Rubin.
"Hardly surprising, deeply upsetting, and geostrategically catastrophic, it's official," he reports. "Turkey has now passed over towards being an Islamist state. That turning point is marked by a tiny event of gigantic importance.
"Fazil Say is an internationally acclaimed Turkish classical pianist. He has performed with prestigious symphony orchestras such as the New York Philharmonic, Berlin, Israel Philharmonic, France, and Tokyo, and is a European Union cultural ambassador. The Turkish state is now going to put him on trial, as an Istanbul court has accepted the prosecutor's charge, which amounts to heresy. Specifically: he is accused of insulting Islam because of 'tweets' he sent" on the Internet social network Twitter.
In one such message or "tweet," Say suggested that "since the Koran says there are rivers of drinks in heaven, that makes it sound like a pub."
In another, he jested that the beautiful women available there make it sound like a brothel. "
That's his crime – writing a couple of sentences to describe his irreverent musings, meant to be humorous.
"We are not talking of someone criticizing Say or disagreeing with him," writes Rubin. "We are talking about the power of the Turkish state being used to charge a man with a crime and to send him to prison for exercising free speech. True, they are only asking for a sentence of eighteen months in prison, but once the precedent is set, their ambitions will expand.
"There are already hundreds of political prisoners in Turkey today who have been in prison for over three years without any trial. Now, if criticizing Islam in Turkey is a crime, Turkey is not a secular state.
"This is the country that the Obama administration views as a role model for other Muslim-majority countries," writes Rubin. "In fact, though, Turkey is going down the same road of repression. In Saudi Arabia, a young man was recently indicted, extradited back from Malaysia, and put on trial for a similar offense.
"But we know where Saudi Arabia stands. Islamists in Egypt wanted to do the same to a leading Christian businessman for posting a picture of Mickey and Minnie Mouse in Islamic garb. They acted too soon, while the military is still in power. Let them try it again in a few months.
"In Kuwait, Hamad al-Naqi received a 10-year sentence, the maximum, for allegedly insulting Muhammad, his wife, and their friends," writes Rubin. "Al-Naqi claimed his Twitter account was hacked and someone else sent the messages. If true, that would be a very deadly way of getting someone else into trouble, right?"
Elsewhere, on the "Arab Spring" front, the Tunisian minister of religious affairs has sought indictment on blasphemy charges of Jelil Brick, a longtime dissident fighter against the former dictatorship who lives in Paris and makes YouTube videos. Brick previously survived an Islamist assassination attempt.
"But unlike those Arab countries, Turkey has been a secular republic for decades," writes Rubin. "Its 'progress' toward Islamization could not have been more obvious for the last few years, but the Western mass media generally ignores the evidence.
"The only thing that would save Turkey is if the current regime gets voted out of office before things go beyond a point of no return.
"Such an electoral defeat is not on the horizon.
"I'd address this issue in my regular column in a Turkish newspaper," writes Rubin, " but I can't since that was cancelled within a few minutes of my sending in an article (not published) that criticized the government.
"I'd have a correspondent in Turkey write about this for you, but my Turkish friends – even ones who have historically been courageous – are now all too afraid to do so. I could possibly publish something about it in the journal I edit, Turkish Studies, but only because a Turkish government-inspired effort to get me removed as editor failed miserably.
"Meanwhile, the court system in Turkey is – as you can see, above – being undermined," continues Rubin. "Tens of thousands of graduates of Islamic madrassas – religious academies – are now recognized as holding the equivalent of a college degree so they can be put into high civil service posts from which they will administer the state with as much Shari'ah – Islamic religious law – as they dare implement this week.
"For a decade now the Justice and Development Party has been in power, marching toward Islamism with far greater patience than the Muslim Brotherhood could ever muster. It has now crossed the point of no return.
"I could provide scores of other examples. Here's one: a liberal Turk who was extolling the ruling party not long ago explained that his family's babysitter wears "Islamic" garb, even though she isn't a believer. Why? Because if she didn't wear those clothes in her Istanbul neighborhood when she's walking to work at his house, she'd be beaten," writes Rubin.
"Ponder what Atatürk warned:
"Those who use religion for their own benefit are detestable. We are against such a situation and will not allow it. Those who use religion in such a manner have fooled our people; it is against just such people that we have fought and will continue to fight."
"But now in Turkey," writes Rubin, "that fight is a distinctly uphill one."