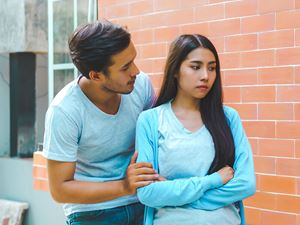 shutterstock.com
There are so many people who live in darkness as a result of abusive relationships. Abuse can take many forms, not just physical, but mental, verbal and emotional as well. It's important that we ask God to enlighten victims and provide them with wisdom to see when things are not right within their relationships. Even when they feel powerless or fearful, God is in their corner. One of the best places a person who is suffering from abuse can turn to is Scripture.
The popular "love passage," 1 Corinthians 13 makes it clear that abusive relationships are wrong. In these verses, Paul defines what true love looks like in a relationship. The passage says, "Love is patient, love is kind. It does not envy, it does not boast, it is not proud. It does not dishonor others, it is not self-seeking, it is not easily angered, it keeps no record of wrongs. Love does not delight in evil but rejoices with the truth. It always protects, always trusts, always hopes, always perseveres. Love never fails…"(1 Corinthians 13:4-8). When we know how love is displayed, we not only know how to love others better, but also know how we should be treated.
If we take a look at the biblical definition of love, then we know that no form of abuse should be tolerated and that we shouldn't endure the pain of abuse. Abuse it not of God. Not only does the behavior dishonor our Lord, it also escalates abuse.
All followers of Christ to stand against all types of domestic violence and abuse not only outside of our homes but also in our homes. Call on God to bind every evil spirit associated with them. We shouldn't advocate for anyone who destroys a person's self-respect, self-worth and confidence and leaves them with feelings of low self-esteem and depression. Pray that God will heal, forgive and show these victims that, as a person, they deserve to be respected, feel safe and valued. Also pray that those being abused to recognize that when they feel dominated, disgraced and even dejected, that they need to stand up and declare that no weapon formed against them shall prosper because they are delivered by the blood of Jesus and are children of the Most High God.
Those who have experienced domestic violence and abuse are in the process of healing both physically and emotionally from multiple traumas of the mind, body and spirit. Some of these victims are people we don't know but others, we may know very closely. Unfortunately, too many victims suffer and silence and don't know who or where to turn to. It's important that we pray for their healing and restoration, turning to the only One who has the power to make all things new. Jesus said, "Love your enemies and pray for those who persecute you" (Matthew 5:44). He also said, "Do good to those who hate you, bless those who curse you, pray for those who abuse you" (Luke 6:27-28). Whether someone persecutes, abuses, hates or curses us, we are called to pray for them.
When you pray for these victims, ask God for the strength to share these convictions, the compassion for the abused, and the wisdom to plant seeds that encourage people to think and ponder these serious issues. What God is doing with this command is making God a necessary part of enemy love. We are to turn to God when our enemy abuses us.
We know that Jesus was delivered into the hands of the wicked, yet He prayed for His persecutors and overcame hatred with the blood of the cross. It's important that we stand against violence and pray, not only for peace of mind but also a renewed faith in God's protection and care. Call on God to keep you aware to the concerns of violence and to inspire those in your community to develop a sense of urgency when it comes to the many needs that surround us. God has the power to protect us all from the violence of others, to keep us safe from the weapons of hate, and to restore to us tranquility and peace.
When we lift up prayers of healing for those in abusive relationships, we are praying for survivors and anybody that has ever been affected by any form of violence in a relationship. We are asking the Lord to cover them with Jesus' blood and His wings so that might find refuge in Him. Pray that God will give them the strength to fight back spiritually and that you deliver them and heal them. Also, pray for peace, strength, hope, wisdom and love. While we don't always know why situations happen or what we should do regarding them, God reminds of us His love every day and helps us see that we are wonderfully made.
Our God is a God of love, who is ever caring, ever strong, always present and always just. He gave His only Son to save us by the blood of his cross. As a Shepherd of Peace, He has the power to heal those who have been hurt in body, mind, and spirit by those who betrayed the trust placed in them. Many of us agonize over the harm done to our brothers and sisters. God can breathe wisdom into our lives, soothe restless hearts with hope and steady shaken spirits with faith.
Our Heavenly Father is a source of consolation and hope and by His son's dying and rising, He remains our light in every darkness and our strength in every weakness. Call on God to be the refuge and guardian of all who suffer from abuse and violence. Ask that He comforts these victims and sends healing for their wounds of body, soul and spirit. God has the power to rescue them from bitterness and shame and refresh them with Your love. He can heal their brokenness and revive the spirits of all who lament this sin. In order to call for justice, we must first deepen our respect for the dignity of every human life. Only God has the power to restore.