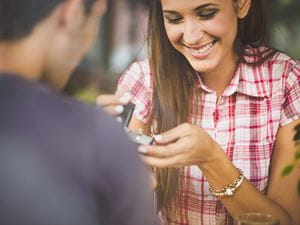 Shutterstock.com
A couple that prays together, stays together. Now that you are engaged with your new spouse, take that happiness, joy and excitement and share it with the one who gave it to you – God. He is excited to have you take this next step in your life and wants to celebrate your new engagement with you.
These prayers are a great starting place to pray for your engagement in a wide range of situations. Talking with the Lord should always be a personal occasion, so edit the prayers as needed to let God know what is in your heart.
Prayer to Thank the Lord
When you first get engaged, you likely are overcome with joy and happiness. It's a great occasion. There is no one better to share that happiness with than the Lord. Take a moment to pause and say thank you for bringing you soon-to-be spouse into your life. This prayer from A Divine Encounter is a great place to begin.
Dear Heavenly Father, how good You are to give us the gift of anticipation about joyous occasions to come! Thank You for the person You have ordained for me to marry, and for directing our relationship thus far. I pray that You would continue to make Your will known to us, in big ways and small, as we pursue Your will together. We long to glorify You in our relationship, now and forevermore. It's in the name of my Savior, Jesus Christ, that I pray. Amen.
A Prayer to Share With Your Pastor
Praying with your pastor, minister or other church leadership is a great way to start of your engagement. You will feel a sense of strength and happiness knowing that you have your church's blessing to back you up. Here is a prayer by Pray With Me that you can say with trusted church leadership to bless your engagement.
Heavenly Father, we thank You for this joyful engagement celebration and the commitment that these two people have made to each other, to spend their lives together, as husband and wife. We come to You today, to celebrate their decision and consecrate their future into Your hands – and we ask for Your special blessing on this engagement ring, praying that he who gives it and she who wears it would recognize that significance of this important symbol: a life-time of loving commitment to one another. We pray that Your blessing would rest upon them, throughout this engagement period as they plan for their future life together. We ask that this may be a time when their love for each other deepens and grows as they cement their future happiness on You. Amen!
Prayer at Your Engagement Party
If you are throwing an engagement party, you may want to have someone share a prayer to bless the food and the celebration. This prayer written by Karen Barber would be a great option for your host to share as you bless your time together with friends and family.
Dear Heavenly Father, we come to you with joy and thanksgiving as we celebrate the engagement of this couple and the commitment they have made to each other to be joined together in marriage. We thank You for all of the time they have shared together and for the many joys and challenges that have given them the opportunity to know each other more deeply. Thank You for the love that has grown between them. Help their love to continue to grow daily as it encompasses all of the many wonderful aspects of love including compassion, a sense of belonging to each other, friendship and unconditional love.
As they plan their wedding and begin charting the direction of their new life together give them the ability to communicate well and to laugh often. Give them the grace to value each others' opinions, hopes, gifts, faith and dreams. Be with them in their times of disagreement that they might learn how to find common ground, how to give up personal control, how to talk over differences and how to express emotions in healthy ways. Help them to learn how to trust each other. Teach them how to deal with money issues, job demands, family obligations and personality differences. And grant them the time they need together as a couple to stay focused on their relationship during the course of wedding plans and busyness of modern life.
Most of all, enable them to form a strong spiritual bond based on Your eternal love that will last for a lifetime and beyond into eternity. May You bless them with Your loving presence now and always. Amen.
Prayer to Share With You Soon-to-Be Spouse
Praying together as a couple is a strong way for you to bond and grow. Here is a prayer by ThoughtCo. that will help start your engagement off on the right foot together.
Lord Jesus, to teach us to love one another, You became one of us, taking as a tabernacle the body of Mary. You said: "Be one in each other, even as I and the Father are one."
You have desired that [name] and I should live in You as with a single life, like two branches of a single vine, which Your providence has entwined. Let our love pass through You, that it may realize a perfect union, not only of our hearts but also of our souls, and that, growing from day to day, it may likewise increase our life in You.
Help us to bring to our home enough beauty, health, thrift, strength, purity, and ideals, to make it a model of the new world we wish to build with You, and to give You priests, perhaps, but certainly apostles.
With all this, let us never forget that it is through us that Your kingdom must be established--in factories, offices, shops, in all the places we frequent, in our streets and houses...on earth as in heaven.
Have pity on all those youths and maidens whose hearts are wounded and whose dreams are broken. Guard the promises which have been made according to Your Spirit. And may Your blessing soon give us to each other forever. Amen.
Getting engaged is such a wonderful time in a young couple's life. Share that excitement with the Lord, and your marriage will already be off to a beautiful and strong start.