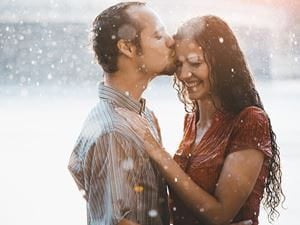 Shutterstock.com
The biblical concept of marriage involves oneness between a husband and wife that mirrors the oneness of Christ with His church. The Bible records the creation of marriage in the second chapter of Genesis, "The man said, 'This is now bone of my bones and flesh of my flesh; she shall be called 'woman,' for she was taken out of man.' For this reason, a man will leave his father and his mother and be united to his wife, and they will become one flesh" (Genesis 2:23-24). God created man and then made woman to compliment him. We know from Scripture that biblical marriage is God's fix for the fact that it is not good for man to be alone (Genesis 2:18). Here are five important things the Bible teaches husbands about loving their wives.
Love Her Unselfishly
We often hear the term "unconditional love" when it comes to relationships, but "unselfish love" is another term that we should know. Unselfish love is the glue that holds marriages together. The Apostle Paul states, "Love is patient, love is kind. It does not boast, it is not proud. It does not dishonor others, it is not self-seeking, it is not easily angered, it keeps no record of wrongs. Love does not delight in evil but rejoices with the truth. It always protects, always trusts, always hopes, always perseveres" (1 Corinthians 13:4-7). It's important that we subdue our own egos and selfish pride for the sake of our family. True Christian love is not a feeling; it is something we must make the effort to practice every day.
Do Not Lust For Other Women
The Bible tells us, "You have heard that it was said, 'You shall not commit adultery.' But I say to you that everyone who looks at a woman with lustful intent has already committed adultery with her in his heart" (Matthew 5:28). Jesus sees lusting after a woman or a man like adultery that is being committed already in the heart. That is because lusting occurs in the heart. "In the heart" is the same thing as being "in the mind." Often, people think of adultery as a physical act but it can be far more than that. Lusting in the heart or mind for someone who is not your spouse might as well be committing adultery, even though it is not a physical act.
Focus on Her Physical and Emotional Needs
A husband should love his wife both physically and emotionally. Too often, husbands forget how important their wives sexual needs are too. Sex is important in marriage and your wife's needs should be acknowledged. Paul said neither husband nor wife should deny sexual pleasure to each other: "The husband should fulfill his marital duty to his wife, and likewise the wife to her husband. The wife does not have authority over her own body but yields it to her husband. In the same way, the husband does not have authority over his own body but yields it to his wife. Do not deprive each other except perhaps by mutual consent and for a time, so that you may devote yourselves to prayer. Then come together again so that Satan will not tempt you because of your lack of self-control" (1 Corinthians 7:3-5). God's marriage union is where the Bible says a man and a woman become "of one flesh." When they do this, they become one physically, mentally and emotionally. Sex is one of the divine gifts that God has provided not only for our physical and emotional well-being, but also our happiness. Keep your wife's needs in mind.
Don't Jump to the Idea of Divorce or Think of it as an Escape
Because God is love, He has great love for the institution of marriage. His heart breaks over the pain of divorce. Jesus saw the injustice of divorce and said that neither husband nor wife should separate from each other. He said, "Anyone who divorces his wife must give her a certificate of divorce. But I tell you that anyone who divorces his wife, except for sexual immorality, makes her the victim of adultery, and anyone who marries a divorced woman commits adultery" (Matthew 5:31-32). The New Testament teaches that marriage should be a lifelong commitment. While some marriages can't be saved, divorce shouldn't be your first option. It should only be a last resort. We must make an effort each day to keep our marriages strong and not let them drift towards divorce.
Allow Jesus to Take the Wheel
Marriage can often be a struggle for control where both husband and wife fight for control over decisions, situations and rules. But until both man and woman in a marriage find that there can be no other person in control of the relationship except Christ, they won't find the fullness of God's plan for the relationship. Too often, we place another master on our marriage hierarchy. Sometimes, we replace God with money and make decisions based on that. Other times, we put convenience, pleasure and the opinion of others or sometimes even ourselves. Jesus should be the foundation upon which everything is built in our marriage.
God has an important plan and purpose for every marriage, including yours. Two become one means that your lives are joined on Earth. God desires you to have a partner to journey through life with. Our marriages should promote Christ first. When we do this, everything else will fall into place.