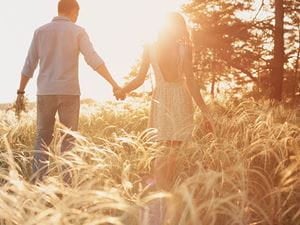 Shutterstock.com
Oh, boy it has been too long since you and your spouse connected! Well, it's about time that you did something to get out the rut and to enjoy each other again. In a society where relationships don't last long, we need to still invest in them after being married because they may start deteriorating. Maybe you believe that you don't need to plan anything until your 50th wedding anniversary. Well, let's hit the buzzer as that is fallacious. Be determined to keep the magic alive between the both of you by taking another journey together. From a trip to the countryside or taking a trip to Europe, every couple requires a second honeymoon. We know the word "honeymoon" comes with a lot of pressure, but no need to allow the second one to make you feel stressed, take it from a different viewpoint and look at it as a new episode in your relationship. Here are reasons you need to go on a second honeymoon.
To connect again.
It's important that couples take the time to be a couple again! It's very easy to get consumed with work, kids, the average day-to-day and just life, in general, can be exhausting. It's crucial for married couples to remember that their relationship sets the foundation for their life together. Connecting again will help you become an active listener without the distractions of life to interrupt you. The normal distractions like texting, emails or the kids taking your time will be put on pause.
Revisit the reason you fell in love.
During a second honeymoon, you can have fun doing things that you love doing together again! Oftentimes, we go on autopilot and forget to spend quality time together. Making goals as a team will help keep the relationship more fluid and it will make you much stronger during your hiatus. This can be planning activities when you get there, checking out the local scene or going sightseeing. Taking part in shared activities can help renew your bond together. Go hiking, golfing, swimming or do something that you both enjoy. You can go to an amusement park, water park or another attraction to feel like you're dating again.
It will help put our spouses first.
The Bible warned us about being selfish. Philippians 2:3-4 explained that to "Do nothing from selfishness or empty conceit, but with humility of mind regard one another as more important than yourselves; do not merely look out for your own personal interests, but also for the interests of others." Isn't it time to put the health of your marriage first? Allow the trip to reset your priorities and to help put the relationship more into perspective. You can gain a deeper appreciation for your spouse when you put them first. Ask questions like "What makes you feel most loved?" or "What goals would you like to accomplish?" These can help get the conversation going so you can learn more about your spouse and it shows that you're still engrossed in them.
It may deepen your relationship.
Being loving and warm towards your spouse will keep the relationship strong. Affection is very important when it comes to a relationship because it makes people feel needed and cherished. Intimacy can be a kiss, a hug or just cuddling. "It might be the boost you two need for your sexual intimacy. Don't make it about unrealistic expectations; rather, relax and revel in the opportunity to be more physically intimate," author J. Parker wrote.
It may help you accept each other.
It's likely that your differences balance one another out and make you a great team, but we don't always accept our spouse's shortcomings. We can look to the Bible on getting rid of our own sin before pointing to our spouse's sin. Accept that both of you are different individuals and when we stop with the faultfinding, we may discover that we are all fallible. When you come to this conclusion, you will start to enjoy each other more during and after your second honeymoon.
It will help with gratitude.
We all lack gratitude for each other. Use your second honeymoon as a reminder to be grateful for your spouse and what they do for you. How can this happen after the honeymoon? When you return home start to put a plan in place to let your spouse know that you are thinking about them during the day. Share a Scripture or a positive quote to encourage them before work or before they start their day. You can make them their favorite coffee in the morning if they leave before you and things of that nature. Gratitude could open up communication and circumvent negative patterns in your marriage if you stick with it. The reason is when someone feels appreciated they are less likely to feel taken advantage of or resentful. Marriage is sometimes difficult and being careless towards each other makes it harder.
In order to have a flourishing relationship with your significant other, you'll have to work at it before and after your second honeymoon. Yes, the trip is a way to gain your composure and to relax, but it's a way to make the relationship stronger by taking a step back and focusing on each other again. Make your marriage a precedence and get ready to reap the rewards.