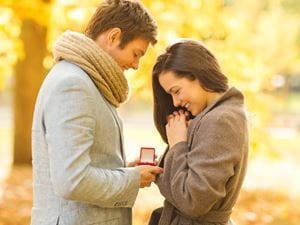 Shutterstock.com
God's first purpose for creating man and woman and joining them in marriage was to mirror His image on earth. The Hebrew word for "mirror" means to reflect God, to magnify, exalt and glorify Him.
Marriages should also point us back to His love for us. We can appreciate what God designed marriage to provide: partnership, spiritual intimacy and the ability to pursue God – together. Because we're created in the image of God, people who wouldn't otherwise know who God is should be able to look at us and get a glimpse.
"Marriages should reflect God's image to a world that desperately needs to see who He is."
Since every person needs a partner at some point in life, the world has provided its way of finding a husband or wife. Unfortunately, the world's view of marriage will often put the focus on us, as individuals and pull us away from our marriages. Many fall victim to its deception. Churches and many Christians have accepted and fallen to the world's knowledge and wisdom. Some churches even preach and teach how to find a husband or wife the worldly way. Here are five lies the world tells us about marriage and what the Bible really teaches.
My Spouse Must Make Me Happy
Contrary to popular belief, your spouse can't make you happy. That's not how God designed it. Happiness is based on circumstances. Yet, circumstances are the one part of our lives over which we have virtually no control. Since you can't control your circumstances, pursuing happiness means constantly looking at your surroundings to see if they make you happy. And as soon as you start doing that, you'll find all the reasons why your circumstances don't measure up. The truth is God should be your main source of happiness. True happiness can only come from living your life for God. We need another route to happiness in marriage – one that is far more likely to get us where we need to go. It starts not with fixing our spouse but with fixing our own hearts.
My Spouse Can and Must Change
You can't change your spouse and you should never walk into a marriage believing that you can, or even with a desire to. If you're particularly concerned about your spouse, you can pray for them in love. Pray that their heart will be changed and that they will turn to God in the face of their difficult circumstance. This is also an opportunity for you to take time for introspection. Turn the gaze away from your spouse toward yourself. If you're constantly looking for ways to change your spouse, you may in fact be the one who is in need of change.
My Private Immorality Does Not Affect My Marriage
A lot of people think they can do things like talk privately with people of the opposite sex online or view pornography in the privacy of their home and it not have an impact on their marriage. It's just me, my magazine and my computer, so it shouldn't affect my marriage, right?
The truth is, oneness in marriage is hijacked by sexual immorality. Paul says in 1 Corinthians 6:15, "Do you not know that your bodies are members of Christ? Shall I then take away the members of Christ and make them members of a prostitute? "You can join yourself with a prostitute in many ways: physically through the pages of a magazine, even on a computer screen. Paul's advice? Flee immorality (1 Corinthians 6:18). If you take your emotional and sexual energy and spend it on someone else, there will be nothing left for your spouse.
My Spouse Must Complete Me
One of the most common reasons so many marriages are broken today comes from the lie that you and your spouse should "complete each other." Just think about how self-centered this way of thinking is. It's essentially saying, "I've got a few little weaknesses, and someone is going to marry me and make sure all those weaknesses are fixed." As you continue down this line off false thinking, you set yourself up over and over again to experience disappointment with your spouse. It's an ugly cycle of your spouse messing up, you trying to fix it and your spouse messing up again. And if you don't change your thinking, you'll spend your entire marriage disappointed with each other. Yet, God didn't design your spouse to complete you. That job belongs only to Him. 1 Thessalonians 5:23 says, "May God Himself, the God of peace, sanctify you through and through. May your whole spirit, soul and body be kept blameless at the coming of our Lord Jesus Christ." It's God's job to fix broken people. Not yours.
Divorce is an Easy Option
The world wants you to believe the lie that divorce is a quick fix to the problems you're facing in your marriage. In our culture today, many see divorce as a positive solution for a troubled marriage. But the Bible teaches us that divorce isn't the way, except in extreme cases. God declares in Malachi 2:16, "I hate divorce!" and why does He hate it? Because marriage is meant to be a special covenant between a man, woman and God. If you are in a bad marriage, the answer is no to dissolve the relationship, but to restore your relationship the way God has restored our relationship with Him through Christ. Stick through the hard times and work on the tough issues. God has not left you without hope – He desires for your marriage to be restored.
As Christians, it's important for us to guard ourselves and understand God's design for marriage, which gives us a sense of direction and stability. The enemy's agenda is to take Jesus Christ away from this world and our marriages, but when we know the truth, we don't have to fall victim to worldly deception.