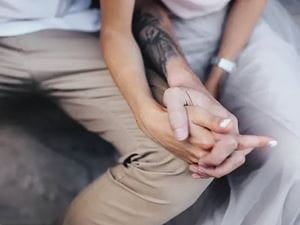 Shutterstock.com
The Bible is a great text to find inspiration for building up your marriage. God created the perfect blueprint for how a marriage can be strong, intimate and passionate in all areas, including emotionally, spiritually and physically. When you want to ignite the spark between you and your spouse, turn to the Bible for hope.
"Therefore encourage one another and build each other up, just as in fact you are doing." (1 Thessalonians 5:11)
Jesus always will be your number one support system. He will be there for you through thick and thin, and encourage you to become the best version of yourself. Your spouse should do the same, and you should do the same for your spouse. Your marriage should be a place where you can find reassurance, inspiration, and empowerment.
"Be completely humble and gentle; be patient, bearing with one another in love. Make every effort to keep the unity of the Spirit through the bond of peace." (Ephesians 4:2-3)
God doesn't expect your marriage to be perfect and easy to navigate. He knows that you will hit road bumps that might cause you to act out of character, fight, and forget to love each other. When you feel that you aren't appreciating your spouse in the way that God intended, this Bible verse will help you to pause and rethink.
"Husbands, love your wives, just as Christ loved the church and gave himself up for her." (Ephesians 5:25)
While this specific Bible verse speaks about husbands loving their wives, it can be easily switched as well. Wives should love their husbands in the same way. Both parties should be willing to love their spouse unconditionally as Christ did, and provide for them as Jesus provided for the church.
"Be kind and compassionate to one another, forgiving each other, just as in Christ God forgave you." (Ephesians 4:32)
We experienced the most profound love when Jesus sacrificed Himself for our sins, before we were even born. What an incredible gift we have been given! We are not perfect, and our spouse is not either. We can take the lesson of forgiveness from Christ and use it to forgive our spouses, even when they make grave mistakes. No matter what sins either of you commit, God can help you get through them.
"Therefore what God has joined together, let no one separate." (Mark 10:9)
Do you let outside influences dictate how you run your marriage? The only one who should ever have influence your relationship is God. He should be in the middle of your union bringing you both closer together. Anyone else is noise and you shouldn't put much stock in their opinions. Listen to what God wants for you.
"Love is patient, love is kind. It does not envy, it does not boast, it is not proud. It does not dishonor others, it is not self-seeking, it is not easily angered, it keeps no record of wrongs. Love does not delight in evil but rejoices with the truth. It always protects, always trusts, always hopes, always perseveres. Love never fails." (1 Corinthians 14:4-8)
This is one of the most well-known Bible verses on love and for great reason. It shares with us how Jesus loved others - without fear or restriction - and in turn teaches us how we should love others, especially our own spouses. Marriage requires a lot of dedication, hard-work, and commitment, and at times you may not feel like you love your spouse at all.
"Let your fountain be blessed, and rejoice in the wife of your youth, a lovely deer, a graceful doe. Let her breasts fill you at all times with delight; be intoxicated always in her love." (Proverbs 5:18-19)
Intimacy is most importantly about an emotional connection, but it's about a physical connection too. God didn't design sex to be shameful or embarrassing, but instead a beautiful way for a married couple to share their undying love for each other. It should be a celebration between a passionate couple, so communicate with your spouse your needs and desires.
"I opened for my beloved, but my beloved had left; he was gone. My heart sank at his departure. I looked for him but did not find him. I called him but he did not answer." (Song of Solomon 5:6)
Do you miss your spouse when they are not home? Do you long for them after a hard day at work? Having someone to love, care for, and laugh with is a special gift. Ask someone who is single or who has lost a loved one, and they'll tell you how unique that bond is. We should be appreciative of the loved one we have. When we show gratitude towards them, they become a higher priority.
"The wife does not have authority over her own body, but the husband does. And likewise the husband doesn't have authority over his own body, but the wife does." (1 Corinthians 7:4)
Many people use parts of the Bible out of context, and this is an example of one of those verses. This verse is telling us that both spouses in the marriage are to be of service of each other as it is an equal partnership. Both the husband and wife may have to sacrifice their own pleasure to meet the needs of the one they love, as they are joined in one through Christ.
It's important to ignite the passion between you and your spouse, in emotional, physical and spiritual intimacy. God has a blueprint for how to do so and we can find that inspiration right in the Bible. Use these verses to grow your own marriage.
More on Marriage from Beliefnet:
Do These Little Things to Make Your Marriage Stronger
Prayers For Christian Marriages
Important Responsibilities of a Christian Wife
9 Things a Husband Needs From His Wife