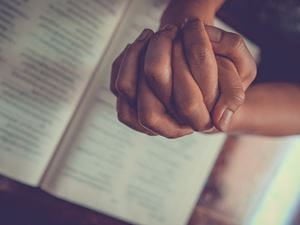 Shutterstock.com
Being in a marriage is hard work, and prayer is a vital part of a successful marriage. By making prayer a priority in your marriage, you're inviting Christ into your union to shape and mold one another's character as He desires. You can bring positivity and spiritual nourishment into your husband's life through prayer and scripture. A Christian wife has to pray for her husband's integrity, strengths, weaknesses, and spiritual walk for every aspect of his life. A wife also has to encourage and uplift her husband. Reading encouraging scriptures can help your husband through a rough day and encourage him to press on.
A Good Christian Husband
Ephesians 5:25-33 calls for husbands to love their wives like Christ loved the church, just like Christ loved the church and gave himself up for her to make her holy. Christ loved the church and His people so much that He died so that we could be made right. A good Christian husband would love his wife as Christ loved the church, which could fill big shoes. Although it seems like they lucked out, the truth is husbands don't get the lucky end of the deal when to comes to marriage roles. This verse in Ephesians also calls for husbands to love their wives as they love themselves. Despite this standard, husbands will inevitably fall short. Husbands struggle to love their wives well, just like their wives struggle to love them well. It's part of human nature and living in today's world. Instead of chastising them, wives should encourage their husbands and lift them when they need it.
Encouraging Scriptures For Husbands
If your husband appreciates words of affirmation, then sending him notes throughout the day can fill his cup. You could also add a note to his lunch box or his luggage before a work trip. It may also be helpful to text him throughout the day to tell him you're thinking about him or pray these scriptures over your husband. However you choose to do so, these scriptures will encourage your husband and brighten his day.
Galatians 6:9 – Let us not become weary in doing good, for at the proper time, we will reap a harvest if we don't give up.
This Galatians scripture will encourage your husband to remind him that doing good is always the right thing to do. No matter what he's going through, as long as he's doing what's right, he will be rewarded. It will also remind him that giving up will get him nowhere. Instead, he should persevere through his struggles and see them through.
Romans 8:28 – And we know that all things God works for the good of those who love Him, who have been called according to His purpose.
Your husband may have days where he feels like everything is working against him. This scripture will remind him that everything will work for his benefit if he loves the Lord during these times. Text him this verse when you know your husband has a hard day ahead of him, and he'll immediately feel encouraged.
Philippians 4:6-7 – Do not be anxious about anything, but in every situation, by prayer and petition, with thanksgiving, present your requests to God. The peace of God, which transcends all understanding, will guard your hearts and your minds in Christ Jesus.
Anxiety can be the thief of joy. If your husband feels anxious, this Phillippians verse will encourage him to take all of his requests to God and watch Him work. God's peace is bigger and stronger than anything your husband will endure. It will also guard his heart and mind while giving him the encouragement that he needs.
Joshua 1:9 – Have I not commanded you? Be strong and courageous. Do not be afraid, do not be discouraged, for the Lord your God will be wherever you go.
Society expects men to be brave and strong at all times. However, there will be times where your husband feels like he isn't good enough or that he's failing. This verse from Joshua will encourage him and remind him that he's doing the best he can and that God is always with him. With God by his side, he can accomplish anything.
Psalm 55:27 - Cast your cares on the Lord, and He will sustain you. He will never let the righteous be shaken.
Some days, your husband will feel overwhelmed by everything he's going through. Whether it's finances or work issues, our struggles tend to get the best of us. However, this verse reminds him that when we give our problems to the Lord, He'll solve everything. If you send this scripture to your husband when he feels overwhelmed, he'll be encouraged to fight his problems.
Colossians 3:23-24 – Whatever you do, work at it with all your heart, as working for the Lord, not for human masters, since you know you'll receive an inheritance from the Lord as a reward. It's the Lord Christ you're serving.
From the time they're boys, men learn to be competitive with others and compare their wins to their peers. This encouraging scripture for husbands in Colossians will remind him that as long as he's working for the Lord and not others, he'll receive his rewards from the Lord.
Encourage Your Husband
Men need encouragement, Godly wisdom, and hope in today's world more than ever. While the world tends to tell men to hide their emotions and act tough, God's Word has plenty of examples of men who passionately and whole-heartedly sought God with their mind, heart, and soul. God has a special calling for men to be strong, courageous leaders. These encouraging scriptures for husbands can inspire that your husband needs to take daily steps toward his calling.
There may be times where your husband needs encouragement, but he may not necessarily know how to say it. In these times, pray for him and ask God to give him everything he needs but may not say. If you pray these encouraging scriptures for husbands over him, God will take care of everything.