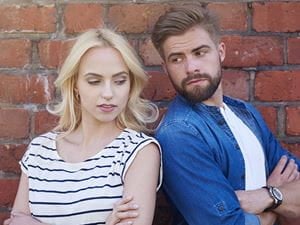 Shutterstock.com
When tensions rise and feelings get hurt in your relationship, you may wonder if God is sending relationship interference or unseen forces who are trying to destroy what God established. The Bible is clear about the spiritual battle around us. Paul writes, "For our struggle is not against flesh and blood, but against the rulers, against the authorities, against the powers of the dark world and against the spiritual forces of the heavenly realms" (Ephesians 6:12). When you feel like you've been living right for God in your relationship, but something continues to get in the way, you may ask yourself is this God's way of letting you know that you shouldn't be in that relationship, or if it's the devil trying to sabotage your relationship.
When we enter in a new relationship, it's important that you know whether the other person shares your beliefs, is committed to living a Christ-centered life, if they are who they claim to be, and if they're truly someone you want to spend the rest of your life with. However long this determining period is, you will face challenges. To believe or evaluate each relationship as the devil resisting or God speaking against it, or every positive situation as God's blessing or Satan's handiwork can be dangerous. However, if your relationship is under attack, it's important that you invite God's relief and healing.
Don't Underestimate the Enemy's Attacks
When your marriage seems to be in peril, it's easy to start focusing on the ways your spouse is letting you down or you are falling short. Remember that God has put the two of you on the same team, and it's Satan that wants to pull you apart. First Peter states it vividly: "Be alert and of sober mind. Your enemy the devil prowls around like a roaring lion looking for something to devour." If it feels like your relationship is being devoured, it's important that recognize your relationship is under attack and center your attention back on God.
Pray
This one may seem obvious, but if you're experiencing relationship challenges, talk to God about them. As you pray for the person you're with, confess your failures and shortcomings. As you tell the Lord about the hurt you're experiencing, you invite His presence and power into your relationship.
Focus on Truth
During these tough days, cling to the truth that God will sustain you both. His desire for us is to love each other well and join in His Kingdom work together. During stressful times in your relationship, call on who God has called you to be: someone who prays for the one you're with, forgives, exhibits the fruit of the Spirit, and has the mind of Christ.
The issues you're facing in your relationship may simply be a signal that that you've spent too much time on each other rather than focusing on what God called you for specifically and individually in this moment in time. It may be a notice to slow the relationship down or a sign of some sort of area in your life that needs attention. If that's the case, it may be a signal to spend more time communicating with one another. While God calls us to be obedient in our actions, He doesn't call us for determining the outcome.
You and your partner's maturity in Christ will affect your relationship. While a relationship will take time to grow, there are going to be times where you don't agree. Look at the things you think are an attack from the enemy and test them. What do they look like? Are there differences of opinion or the way you see things? Are old boyfriends or girlfriends coming up in the picture? Are you in an agreement on a future including a marriage? Are you communicating well? Are you praying together about your relationship? Have you sought wise counsel from a pastor, leader or parent? If that's important then you have to do whatever it takes to protect your relationship. While the enemy loves to take something simple to cause issues, his goal is to steal, kill and destroy. God's goal is to build up. So even if the challenge of staying together is difficult, you'll see how these challenges are building you towards God.
Regardless of your circumstances or the cause of your obstacles, it's important that you take a step back so that you can gain a more neutral perception of your relationship and the circumstances you're facing. Sometimes a little distance and time can allow you to see your relationship in a whole new light.
The enemy's attacks might be his attempt to destroy what God has brought together. But if these challenges are not growing you and instead you find yourself more distant from each other or you find yourself unequally yoked as a couple, this could be God saying that you're not meant to be together. That's why it's important for you to pray. When you do this, it will give you the peace of mind that you need. While this may hurt, you will both know and you will both be in agreement.
While the season of spiritual attack has let up, there will be others. The enemy is good at attacking our weak spots. Fortunately, God knows them too and offers help, protection, and healing in times of struggle. Trust God in all circumstances, including your relationship.