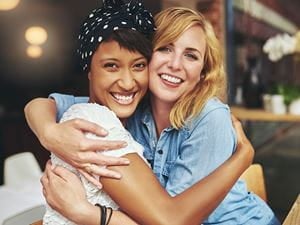 Shutterstock.com
Having anxiety is similar to living in a haunted house constantly. You overthink everything, fear the world around you, and are in physical pain. If you have a friend with anxiety, they always struggle with this. If you've never experienced anxiety, it can be challenging to understand what it's like. Some coping mechanisms and behaviors don't make sense from the outside looking in. Knowing what to say and how to show up can be challenging. Still, it's essential to be open and supportive of friends who deal with anxiety. Here are some ways to support a friend or loved one who suffers from anxiety.
Avoid trying to fix them.
The first thing to understand is that no one is broken. Your friend has likely done some experimentation and research to get their anxiety under control. If they have to deal with you throwing out well-meant suggestions, it may make them feel like a burden or a problem. Your friend has been dealing with the severe effects of anxiety; they're courageous and powerful for facing the challenges they do. Celebrate the personal victories when you know they've done something hard.
Leave the anxiety alone.
This tactic may seem counterproductive, but tell your friend that they can be anxious with you. Also, tell them you understand they don't want to deal with anxiety and won't try to talk them out of how they feel. Let them process their feeling in their way and be there for them.
Ask what they need.
Different people with anxiety have different ways of handling it. For example, breathing exercises and meditation are helpful for many people; they may benefit you but not your friend. Some anxious people need to do activities like aerobics or running. Ask your friend what they need to handle their anxiety and how you can help them.
Listen compassionately and deeply.
Ask your friend how they're doing and listen with your entire body without thinking about how to respond. Practice being present in the moment with them. Recognize their feelings and try not to say things like "you're okay" or "you'll get through this." End the conversation by thanking them for sharing their feelings with you.
Keep them company.
In addition to the overwhelming effects of anxiety, trying to find the proper support can also be overwhelming. Your friend or loved one may try different therapies, meditation practices, doctors, or movement classes. Offer to accompany them to their next doctor's appointment or a movement class. Things can be less intimidating when you have company.
Know that anxiety looks different for everyone.
Anxiety looks different for everyone. For some people, it manifests as deep tiredness and sleeplessness. For others, it can reveal itself as agitation, an inability to focus, and restlessness. It can also manifest as irritability, irrational fears, muscle tension, and frightening chest pains. The misunderstood and diverse symptoms of anxiety are real. Let your friend know you care about their experience and want to know more.
Check-in on them.
If your friend appears anxious when you're with them, check in by saying, "Hey, are you feeling anxious?" By asking them, you're letting them know there's always space for their anxiety when you're with them, and they don't have to avoid it. It also shows them they're not a burden to you. You could also ask if there's something you could do to help. Sometimes during a panic, it can be challenging for your friend to understand what would help. If they don't know, offer to go on a walk or go somewhere quiet with them.
Understand your impact.
Anxiety is like a bully; it can persuade people to believe they're worrisome. Try your best to reassure your anxious friend. If you're going to be late, let them know ahead of time; if you don't have time to reply to a text or email, explain that to them, so they're not worrying. Telling them, "I love spending time with you," can go a long way.
Hold your boundaries.
The best way to support a friend with anxiety is to remember to take care of yourself. Your friend will likely feel guilty if they think their anxiety keeps you from doing the things you want, so don't let it. Do what you want to do and let your friend know they can trust you to care for your emotional and social needs. Let them know when they're asking for more than you can give. You could try saying something like, "I can't talk now, but let's have a coffee date tomorrow. I love you."
Don't advise if they didn't ask for it.
Naturally, you'll be urged to give your friend advice because you want to help with what's making them anxious. There will be times when that's what they need, but there will also be times when they want to express their feelings without getting a to-do list in response. Giving this kind of support your friend needs can help them feel understood, so it's essential to understand what type of help they want. If your friend wants you to listen, prepare yourself to listen. Listening is an art that requires you to put up any distractions and let them know you won't judge them for what they tell you. On the other hand, if they want advice, you could preface it with "I'm not sure if this applies to your situation," depending on what you share.
You can try your best to be the best friend you can be, but remember that you're not perfect. It's okay not to have all the answers or be afraid to say the wrong thing to your suffering friend. However, what matters the most is you commit to being there for them through their anxiety instead of distancing yourself or telling them to get help. Anxiety can be a challenge to tackle alone, so let your friend know you'll be there to help them if they need you. Let them know that they aren't alone and you love them.