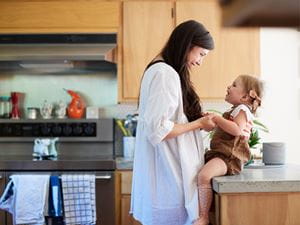 Lightstock.com
Dating can be challenging for anyone, especially if you're a single mother. Having a commitment and responsibility as significant as having kids can add extra hurdles to the dating process. If you're a single mother considering dipping your toe back into the dating pool or have been trying without much luck, here are some mistakes that single mothers make while dating and how to avoid them.
Spending too much time dating.
When you're a single mom, it can sometimes be challenging to avoid this from taking over your life. However, ensuring you don't neglect other responsibilities like friendships, careers, and children is crucial. Try your best not to schedule several dates a week if you don't have time, and be honest with your dates about when you're unavailable. Setting aside one specific night each week, or each fortnight if you're busy, might be helpful to go on dates. If your relationship becomes exclusive, meeting your date will become easier to navigate and arrange.
Not taking dating seriously.
If you constantly cancel dates because you can't find time in your schedule and care for your children, it may be best to consider putting dating on the back burner. Even the most understanding and patient person will want to have an essential role in your life if they're going to date you. You may also want to consider hiring a babysitter if you're struggling to find the time for dates.
Hiding that you're a parent.
Being dishonest is one of the most damaging things you can do in dating. Being dishonest doesn't always mean lying, but it can mean avoiding bringing up essential topics like whether or not you have kids. For example, many people will likely believe you don't have children if you're in your twenties. Still, you can make it clear that you have kids by adding this information to your dating profile or bringing it up before or during your first date with someone. You shouldn't hide essential parts of your life from a potential partner or partner. If he's not interested, he's not the right one for you.
Only discussing your children.
You don't want to hide the fact that you have kids, but you also don't want to take things to the other extreme. If you spend your entire date talking about being a single mom and nothing else, this will push people away. Even if your date also has children, they likely want to get to know you as a whole person, not as a parent. Remember to discuss your interests, hobbies, and passions besides parenting.
Not spending time together without your children there.
When you're getting to know somebody and discovering if they're a potential partner, spending time with them with no one else, just the two of you, is essential. Connecting on a deeper level is challenging if there are distractions like children around. Your date wants to spend one-on-one time with you before meeting your family members. Also, there may be some adult activities that you and your date may want to do together.
Rushing into a relationship.
Unfortunately, some single moms rush into committed relationships too soon. This rush can happen for several reasons. Maybe they're feeling lonely after separating from the child's father. Perhaps they're struggling with finding childcare for meeting their date regularly by themselves, or they're looking for a distraction from the pressures of being a parent. When you're a parent, taking things slow can be more critical. It's not just your life that your partner will become a part of. Before introducing them to your children, it's vital that you're confident that your new partner is right for you.
Choosing a partner that ignores your children.
As mentioned before, someone you're dating wants to get to know you as a person before getting to know your kids. However, avoiding partners who aren't interested in your children may be best. Think about the future; if you want a serious relationship and cohabit with someone, do you want a partner who doesn't help with childcare? Some people might even resent the fact that you have children. In that case, you should steer clear of them. They may feel resentful because they want your attention for themselves, or they're insecure. It would be best if you chose a partner who accepts what's important to you and every part of your life.
Ignoring your child's feelings about your partner.
Sometimes, children will show distrust or dislike toward people for little to no reason, which is natural. They might resent that a new partner has replaced their dad, especially if they're older or in their teenage years. However, a genuine distrust or dislike that lasts for a while shouldn't be ignored. In the early stages of your relationship, it can be easy to get caught up and miss red flags that people, including your children, can see. If you're hesitant, talk to your children while your partner isn't there to let them know it's okay to be honest. Finding the right person to join your family isn't only your feelings that should be considered. Communication between everyone involved is essential.
Being upset that your kids like their dad more.
While it may be true that you believe that your children's father hasn't done what you think he should be doing, he's still their father, so naturally, your kids will still love him. After all, Dad has ideally been there since the beginning while your new partner is unfamiliar. Give your kids the space to accept the new situation and let them know they can share their feelings with you.
Feeling guilty about dating again.
Yes, you're a mom, but you're also human. You still want love, and that's okay. You still need affection and attention, which is to be expected. As long as you're handling your business at home, you shouldn't feel bad for getting a babysitter and having a nice night out with someone new or special. You deserve it.
Dating as a single mother can be scary, but you deserve a life outside of being a mother. No one will judge you for your choices; if they do, they shouldn't be in your life.