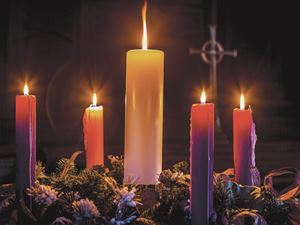 Shutterstock.com
Well-meaning Christians have worked tirelessly to put Christ back in into the holidays after society frowned on people saying "Merry Chrismas." We know the importance of this time of year, but we know that the world doesn't see it this way. The worldview is to not mention Jesus, buy gifts and to forgo the faith aspect. Each year, Americans spend more and more on the holidays. It was reported that $602 billion was spent in 2014 and Americans' 2015 holiday spending was an estimated $830 billion the following year on Christmas gifts! That is a ton of money. "About 1 in 5 people spent between $500 and $999 [on gifts]. With 14 percent spending between $250 and $499," Gallup Poll reported. Every year we hear of people fighting over things so they are the first to get toys and electronics. Cities and neighborhoods are decked out in lights, reindeer, elves and Santa. The television commercials, flyers and the internet advertisements kick into full gear before Thanksgiving invites are sent out. Honestly, we are so stressed with all that the season entails that after shopping, baking, going to parties and dealing with traffic, who has time to reflect or ponder the true meaning of Christmas? When you are emotionally and physically burnt out--by the time Christmas Eve comes, there is a problem. Then there are those who believe that Christ was never born on Christmas and that the season is for retailers. No matter what you believe, let's restore the special time of Christmas and what God really wants us to focus on.
Dig into His Word.
Despite the business of the season God wants you to focus on His Word. Find a Scripture to help you resist the temptation to become frazzled. When you're in a whirlwind of holiday pursuits, it's so easy to lose track of why we're rejoicing. By the time you are finished--you are wiped out. Strengthen your inner man and make that a focus when facing the possibility of complete frustration. Galatians 5:22 reads: "But the fruit of the Spirit is love, joy, peace, patience, kindness, goodness, faithfulness." Invite the Word to come into your heart, not the commercialization of Christmas.
Stop worshiping things.
There is nothing wrong with buying gifts, but you have to realize it is out of control in society. Marketers are counting on you to lose control and to go by emotions. Think about all the commercials that entice the senses. They use Christmastime as a vehicle to maximize earnings. All of us are victims, but God gave us free will, so exercise it! Yes, giving and receiving gifts at Christmas is invariably fun and gratifying, but engaging in consumerism steals our focus on Jesus and reason we are honoring Him. No temptation has overtaken you that is not common to man. Tap into His power as He is faithful and understands. In 1 Corinthians 10:13 we are encouraged that "He will not let you be tempted beyond your ability, but with the temptation, He will also provide the way of escape, that you may be able to endure it." There is an escape for you and that is the King of Kings. Take the invitation and the pressure off yourself to follow Him.
Be thankful.
Thank God for all that He's done and doing in your life. It's very easy to get overrun by trying to keep pace with another person and what they are doing. Get out of the rat race. God wants you to have a cheerful and thankful heart. Switch to this mindset when you feel bad about not being able to provide or have the same blessings as others. If you need help this Christmas, draw up a gratitude list for yourself. Ask yourself "What does Jesus Christ mean to me?" It's amazing how long the list can get if you really step away and reexamine the good in life and during this time.
Pray more.
Ask God to give you fresh eyes and a renewed hope during Christmas. He desires us to come to him daily. In James 4:3 it reads that "You ask and do not receive, because you ask with wrong motives, so that you may spend it on your pleasures." Also, seek Him and ask forgiveness in the areas that you are weak in. If it is overspending or putting your family first seek Him for guidance. Prayer is powerful and he wants us to use it.
Focus on others.
Christmas has become a time of excess and there are many who are struggling to eat or keep the lights on. Volunteering during this time will not only bless others who do not have anything but it will get your mind off yourself. We are supposed to be slaves to Christ and we forget that along the way. With the hustle of the season, it is the last thing we tend to think about if we are truly honest. What do we mean by being a slave to Christ? It means we must be His slave and do all that He asks us to do, Patheos explained. "This means we should also have this mind among us. This is so easy to say, hard so very difficult to do." We are instructed to not neglect to do good and to share what we have. The lights of Christmas that are blaring at us can not only illuminate our physical environment but it is a reminder of what Christ brought into this world. Resist the temptation to allow the holidays to drag you down through cultural pressures. Let God guide you this Christmas so your light will radiate before all men today and forever. "Let your light shine before others, that they may see your good deeds and glorify your Father in heaven," Matthew 5:16 explained. Fix your heart on God today to move you into the right Christmas spirit that will last all year long.