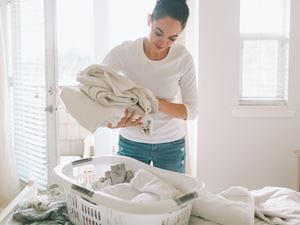 Twenty20
There's no doubt that spring is everyone's favorite time of year. The flowers are blooming, the birds are serenading, but the house still feels like it's stuck with winter blues. That's where spring cleaning comes in to save the day. Spring cleaning is a tradition that allows us to freshen up our homes and get a head start on the often hectic seasons of spring and summer. It can feel like a daunting task, but it doesn't have to be complicated. Some people don't know where to start for spring cleaning. Here are some spring cleaning tips to get you started.
Clean room by room.
Approaching your house room by room is the most effective way to deep clean it. Create cleaning checklists for each room to help you get organized and remind you of the areas that need extra attention. Feel free to skip the areas that have been cleaned recently. Focus your attention on the parts of your home that were primarily neglected over the winter.
Organize and clear the clutter.
One of the most significant parts of spring cleaning is often getting rid of clutter. A systematic four-step approach can be helpful for this. Identify problem areas, analyze reasons for the chaos, determine solutions, and implement them. Sorting your belongings into four categories—trash, giveaway, store, or put away—can also be effective as you go through the spring-cleaning process. Move the clutter out as soon as possible, whether it's bringing a donation box to a charity or planning a yard sale.
Get the household involved.
Make spring cleaning a household endeavor. Even young children can be excellent helpers. Assign age-appropriate chores so everyone feels included. Try throwing on some music as you all clean or establishing a household reward as an incentive to get the work done.
Tackle the seasonal chores.
Many chores need to be done seasonally, especially in preparation for warmer weather. So incorporate them into your spring-cleaning routine to get them out of the way early. For instance, tackle outdoor chores, such as cleaning the grill, patio, and outsides of windows, as soon as the weather warms up. Also, store winter clothing, bedding, décor, and other items. And pull out your spring items to give your home a refreshed look.
Keep cleaning products to a minimum.
If you need to shop for new cleaning products for spring cleaning, keep your items to a minimum. Myriad cleaning supplies can create unnecessary clutter, and you probably don't need all of them to keep your home fresh and clean. Opt for an excellent all-purpose cleaner and microfiber cloths. Those items will cover the majority of surfaces in your home. Then, purchase other specialty cleaning supplies only as needed.
Establish new cleaning habits.
A thorough spring cleaning covering the whole house is an excellent opportunity to establish ongoing cleaning habits, making the next spring cleaning even more manageable. For instance, don't try to do all of your spring cleaning in one day or even one weekend. Instead, tackle items on your spring cleaning to-do list for just 15 minutes each day. That will help get you in the habit of tidying up for 10 to 15 minutes per day, even after you're done with your spring cleaning tasks.
Always work from top to bottom.
When you think about how to spring clean your home, it's essential to start from the ceiling down. This tactic will force debris downward and keep you from having to re-dust or re-clean your space. If you have a vacuum with an extension hose, use it to first get cobwebs and dust from your ceilings and fans. Then dust your furniture and other items before vacuuming all the dust and debris off your floors. It will save you time.
Walls and windows need love too.
People almost always clean their floors, but they typically forget about walls and windows. Not all dust settles on the floor and other surfaces. Just use a damp towel to wipe down walls and blinds (starting from the top). Remove and wipe down the window screens outside. When it comes to the actual window, try using a steam cleaner with a squeegee.
Don't forget about your air.
Replacing furnace and HVAC filters is one of the most important and overlooked parts of spring cleaning. Replacing a standard filter with a more robust one with a high MERV rating will help keep you healthier as you enter spring.
It will catch smaller, irritating particles. Air conditioner ducts build up dust during winter, and upgraded filters catch unwanted particles, so they don't enter your space. It's an inexpensive way to make sure you're breathing clean, healthy air.
Have severe allergies? Protect yourself.
Cleaning will more than likely unsettle all the winter dust on furniture and fixtures. If you suffer from allergies or are using heavy-duty cleaners, be sure to read the labels. Wear rubber gloves, masks, scarves, and even hairnets for safe spring cleaning. Protective clothing will help guard against skin irritations and allergic reactions.
Let spring cleaning set a new tone.
If your space feels dark and heavy, you can make small changes to help make it light and fresh for spring. Adding new colorful pillows or art are great ways to change up your space. Replacing items like bedding, towels, table linens, and even window treatments are other ways to transform your rooms for spring and warm weather ahead.
Believe it or not, it's time to start thinking about spring cleaning your home. Spring cleaning is essential for everyone, particularly an allergy sufferer. Spring is a time to renew your home and let in the light. Winter can be challenging for some people, but spring and spring cleaning bring hope that warmer and longer days are on their way. You owe it to yourself and your family to enjoy a clean that's more than dirt-deep. These spring cleaning tips will lighten up your home and welcome spring in the right way.