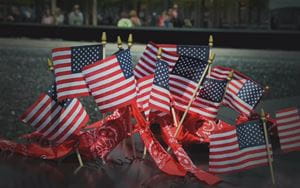 YouTube.com
Heat, flame, and sound fill the lobby, each an unbearable hell unto itself, combine to form a deadly, confusing inferno.
As these elements of the initial blast subside, muffled, metallic groans emanate from the walls, and a thin coating of plaster dust settles on scores of lifeless bodies. In this smoke-filled lobby were nearly 200 people. After the blast, as few as 12 survive.
This is the south tower of the World Trade Center, the date is September 11th, 2001, and United Airlines flight 175 has just ripped through the 78th floor sky lobby.
In all, 2,977 people died that day. But in that 78th floor lobby, a handful survived through the actions of a mysterious man—a man with a red bandana pressed against his mouth and nose to ward off the smoke and dust. That bandana would go on to become one of the most enduring symbols of the heroism displayed that day.
This man was Welles Crowther, an unassuming equities trader who worked in the South Tower of the World Trade Center. His was a life that shaped a hero, and his story gives insight into the kind of mind that decides to run back into a burning building to save the lives of others—the kind of mind we should all hope to emulate.
Symbols are powerful things. They chimeras of history, ideas, emotions, and events, all woven together and made into an enduring image. They take the complex and distill it down to something that can be processed within a heartbeat. They create meaning. They are poetry given form.
When Welles Crowther was 6 years old, his father gave him his first symbol—a red bandanna. At that moment, the bandanna represented the bond between a banker and volunteer fire fighter, and his son. It was a point of pride for young Welles, who would keep the bandanna close for the rest of his days, a scarlet thread binding together the major events of his life. He wore it under his high school athletic uniforms, beneath his college football helmet, and kept it with him at the start of his career at Sandler O'Neil and Partners, headquartered on the 104th floor of the South Tower of the World Trade Center.
Welles was not only a man of action, but one prepared to make difficult choices, even from a very young age. A scrapper early on, Welles wasn't one to be bullied, calmly striking back at a boy that swung at him with a lunch box. "He was swinging at my head. So that's when I just took him down," he noted. On a more somber note, when a groundhog was mauled by his family's dogs, Welles, was the only one amongst the group of friends that was willing to quickly end the animal's suffering, although it pained him to tears to do so.
Later, Welles would go on to join his father as a volunteer firefighter, and his very first job was putting out a fire at the home of famed author, Toni Morrison. He would soon prove to have an intense, self-imposed sense of duty when it came to firefighting—he took saving lives seriously. "We're having a good time, and that alarm goes off. He went into Superman mode and just went to the call," said a friend. No matter what he was doing, Welles dropped everything when someone needed rescuing.
Everything Welles did, that red bandanna went with him, absorbing it all, the symbol slowly becoming his own. It even crossed the boundary from college athlete to businessman when he began work in the World Trade Center. Every day, he would tuck it into the right back pocket of his trousers, later placing it on his desk within view, leaving it there for the rest of the day. He was occasionally teased for it, an usual item for a New Yorker to have on their person. Eventually, when asked to take on some difficult task, Welles would wave the bandanna over his head, and lightheartedly say "This is where the magic comes from."
When the planes hit, Welles tied his red bandanna around his face in an attempt to filter the toxic air, the legacy of his firefighter father, his life-saving father, now fully claimed.
On that day, on that 78th floor, those survivors of the plane's impact heard an authoritative voice ring out from the smoke, directing them to the stairway. An injured young woman on his back, he led them down, staying with them long enough to see them away from the worst of the fire and smoke—15 floors—and then turned back, plunging into the carnage once more. According to witnesses, Welles assisted in putting out fires and administering first aid, never stopping, never allowing fatigue to slow him down as he led people down and ran back up. AON Corporation's Judy Wein, who worked on the 103rd floor, said of him, "If he hadn't come back, I wouldn't have made it."
A life lived at the desk had never quite suited Welles. He had a secret dream, of which he eventually told his father—he wanted to be a full-time firefighter. He wanted it badly, wanted to make a difference in the world. He wanted to go back to saving lives instead of bottom lines. Every time he saw the tiny blip of red light from his office window, or heard the faint warbling of a siren, his mind would slip away, joining the firefighters for a moment.
He was last seen with members of the FDNY before the tower collapsed at 9:59 a.m. His body was finally recovered in March of 2002, alongside those firefighters buried in the collapse of the tower. It is speculated by authorities that he was aiding emergency workers in ushering out civilians when the building came down.
According to survivors, he saved the lives of as many as 18 people. That's a conservative estimate.
In 2006, Welles was named an honorary New York City firefighter by Commissioner Nicholas Scoppetta.
He made it. He deserved it.
The red bandanna of Welles Crowther is now on display at the National 9/11 Memorial Museum, its symbolism available to all. The story of a man's entire life is bound up in it, and what's more, the story of his heroism, and the tale of his sacrifice. One has only to look upon it to realize all those things at once, to realize the need for people like Welles—the need to be like people like Welles.
But for a symbol to be effective, one must be as fully steeped in its story. Read it, come to know the man behind the red bandanna, and of the sacrifice he made. Never let that image leave you, and you'll never forget the importance of selflessness in the face of tragedy.