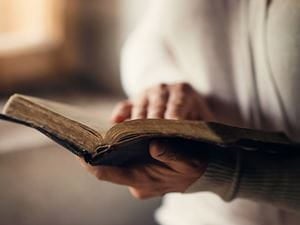 Shutterstock.com
In Lamentations, it said that we need to hold onto hope when things are bleak: "I will remember them, and my soul downcast within me. Yet, this I call to mind and therefore I have hope (3:20-21)." When you tell someone this, you are confident in the message that it represents. Many times we can offer Bible verses for others, but can't glean introspection from them ourselves. This is especially true when you are having the fight of your life. We fight for our marriage, fight for justice and fight to remain faithful. With all these battles--we become drained to the core, walking around like spiritual zombies instead of spiritual giants. Use these Bible verses when you feel like giving up.
Finding hope in disappointment.Many times prayers often seem to go unanswered and the results can really be crushing. This is when hope comes in. Proverbs 3:5-6 revealed that we must "trust in the LORD with all your heart, and do not lean on your own understanding. In all your ways acknowledge Him, and He will make straight your paths." We have heard that all things work together for our good, but that can be difficult to remember when going through life's trials. We need to remember that life is not easy and we need to reach out for hope if we are going to see victory in our lives.Keep your head held high.Jesus Christ suffered while He was on earth. Although times have changed, we will experience distress. Take solace that you can still keep your head held high. Ephesians 3:20-21 said: "Now to him who is able to do far more abundantly than all that we ask or think, according to the power at work within us, to Him be glory in the church and in Christ Jesus throughout all generations, forever and ever." That is pretty cool that God can do exceptional things in your life no matter what is going on. Tap into this wisdom today and hold that head up high!Give God His power back.How we love to take control of things that we simply don't have any power over! If you lost your job or lost a loved one--you may feel that there is nothing in life that is secure. "Blessed is the man who remains steadfast under trial, for when he has stood the test he will receive the crown of life, which God has promised to those who love him (James 1:12)." God is still sovereign and relinquishing control shows God your willingness to allow Him to work. This doesn't mean that you are ignoring your circumstances. It means you are leaning on Him to carry you through.Stop the negative thoughts.2 Timothy 1:7 said that "God did not give us a spirit of timidity, but a spirit of power, of love and of self-discipline." When we fix our thoughts on Jesus it tells the enemy to get lost! If you're accepting thoughts you are a failure or receive negative words from people you trust, nip those in the bud by not meditating on it. They are lies from the pits of hell. The devil operates on deception and he wins when you accept negative ideas. So, cast down anything that goes against the knowledge of God when negative thought strike. Keep your joy during this time.James 1:2-4 said to "count it all joy, my brothers, when you meet trials of various kinds, for you know that the testing of your faith produces steadfastness. And let steadfastness have its full effect, that you may be perfect and complete, lacking in nothing." Having joy is not easy to have when hard times are crushing your soul. These tests will make you bolder and stronger in the word and in your faith.He is always there for you.You can find God today by choosing to lean more into Him. Likely you will find He has been there all along! Psalms 66:17-20 will give assurance that God is there for you. "I cried to him with my mouth, and high praise was on my tongue. If I had cherished iniquity in my heart, the Lord would not have listened. But truly God has listened; He has attended to the voice of my prayer. Blessed be God, because He has not rejected my prayer or removed His steadfast love from me!" Knowing that God is always there for you, will give you the encouragement to help you power on. When doubt comes that God has forsaken you--immediately put those thoughts on notice. Replace them with hope and faith-filled words that have transformational power.Start praising Him.Praise always stops the pain. Start with praise music or just worshiping God for who He is. This does wonder for the heart and for the soul! Try studying and considering on Psalms 146:5-6. This Scripture is a tool for you during times of hurdles. "Blessed is he whose help is the God of Jacob, whose hope is in the Lord his God, who made heaven and earth, the sea, and all that is in them, who keeps faith forever."Find restoration and peace.God always has a plan for us. In the meantime, we need to know that He will give us rest for our souls. Jesus said "Come to me, all you who are weary and burdened, and I will give you rest. Take my yoke upon you and learn from me, for I am gentle and humble in heart, and you will find rest for your souls (Matthew 11:28) ." Find ultimate peace and rest in Christ Jesus, for He is your comfort.

1 Peter 5:7 recommended that we cast all our anxieties on the Lord because He loves us! Create a journal that has all you favorite Scriptures in it. Go back to it when you are struggling. Hard times stink and you may feel you have nowhere to go. Take the arm of Jesus today and allow Him to move you forward out of pain and into your destiny.