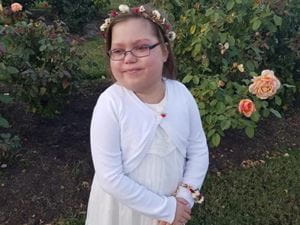 Patty Jessen Furco/Facebook.com
Abby and her family received some devastating news from her doctors. Abby only had 48 more hours to live.
Abby Furco is a 10-year-old girl from Virginia Beach who has been fighting acute lymphoblastic leukemia since she was four. In 2015, Abby underwent a bone marrow transplant for a relapse and has been battling complications ever sense. This summer, her doctors broke the news. Abby was cancer free, but her organs were failing. There was nothing else they could do for her.
All the signs were there indicating that she wasn't going to get better. Abby's health care team that spans an array of hospitals and specialties agreed that they were doing more to Abby than for Abby. So the family believed it was time to bring Abby home and they began to prepare for end-of-life care.
Regardless, Abby told her family, "I am not ready to pass because I'm too young and there are so many things I still want to see, do, experience, and accomplish."
Her parents said signing the DNR form and turning the dialysis machine supporting Abby's kidneys was the hardest thing that they had to do during the five plus years of the cancer journey. They prepared Abby's two sisters, ages 5 and 12, for Abby's death. The sisters sat by Abby's side and supported their sister in every way that they could.
The entire family was amazed when those two days passed. A week passed. Another week passed. Abby wasn't getting worse… she was actually getting better. Abby was improving.
It's been over five months, and Abby is home, enjoying life, and doing well. She is alive.
Despite still having some medical issues, Abby is actually thriving. She is becoming more like a 10-year-old each and every day. She has even started going to school part time; setting foot in a school for the first time in two years. Abby has begun to live the life the way she has always wanted to. The family has taken her fishing, to Italy, and summer camp. She even walked down the aisle, unattended, as a flower girl for her friend Sarah's wedding.
What happened? No one knows. Not a single doctor has an explanation for what changed. One of the members of her care team even said that in his 25 years of experience, he has never seen a turnaround like this one.
It is truly a miracle. A miracle that is touching the lives of everyone around her.
"We are so very lucky and blessed to be watching this miracle unfold," Abby's mother, Patty, wrote in an online journal.
People from all over the United States are hearing about Abby. They are celebrating the life of this beautiful young girl by joining "Team Abby" and living life to the fullest. A hashtag, #LiveLikeAbby, has circulated to show everyone how to live a life full of appreciation and happiness. Abby has been featured on Inside Edition, local news channels, and been named a "face for Childhood Cancer."
Her story is even spreading to some "hot shot" people in Hollywood. A huge fan of Food Network, Abby received a letter from their headquarters, saying "We are so thankful to have a beautiful fan like you." Pixar Studios also reached out to Abby as Dory from Finding Dory, writing "Your incredible strength and courage is inspiring to everyone here at the Great Barrier Reef, and it gives us great strength hearing about all of your courage."
"We are so very lucky and blessed to be watching this miracle unfold"
Abby's mother Patty has been vocal about sharing her story and reaching out to others who have been in similar situations. Patty has been a huge advocate for Children's Cancer Research and has helped Abby raise over $20,000 to donate. The two hope that through Abby's exposer on television that awareness and funding for childhood cancer research will continue to grow. It hasn't been easy, as Abby still has some medical issues, but "the outpouring of love and prayers continue to carry us through" according to Patty.
"We are just so blessed and words can't describe how we feel that we have been given this gift. The gift of life," Patty also said.
The family is continuing on their own journey with Abby. They take each day as it comes; not watching numbers, worrying about doctors' appointments, or the next infusion. Instead, they have been spending time outside of the hospital as a family and are enjoying each moment they have with their daughter. Thankful beyond belief that God gave them this opportunity.
And, in the words of Abby, "I still got a lotta fight left in me!"
For continued updates on Abby's story, follow Abby's Journal featured on CaringBridge.