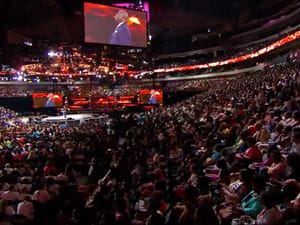 YouTube.com
If your cousin painstakingly described to you how she went to church last Sunday, sat down in a pew, and listened to the pastor talk for two hours, you'd probably mentally check out. But if that same cousin told you that she had an experience at church, you'd snap to attention.
An experience is more than the individual parts that it is comprised of—much more. In the above case, it is more than the church, more than the pew or the Bible or the pastor. An experience is all of these things, but it is also something higher. The person who walks out of an experience is not the same person who walked in.
MegaFest is a 4-day faith-based festival that is aimed at engaging, equipping, and entertaining families from all over the world. Hosted in Dallas, Texas, this MegaFest is the vision of Bishop T.D. Jakes, the entrepreneurial pastor of the Dallas-based Potter's House church. This event combines several of Bishop Jakes' most powerful seminars, aimed at empowering men, women, seniors, youth, couples, and singles. There are practical workshops that provide insights into everything from health to business to parenting. MegaFest also features a wide array of entertainment options, celebrity appearances, and spectacular displays of the arts. It is a festival unmatched in the world of multi-day faith and family events.
But for the thousands that attend each year, MegaFest is also so much more than a festival—it's an experience.
Pieces of the Puzzle
The MegaFest-featured conferences of T.D. Jakes—Woman Thou Art Loosed, ManPower, MegaKidz, and MegaYouth—are each a life-changing experience unto themselves, empowering their respective audiences to overcome the challenges particular to their lives and experiences. Because these conferences are tailored to the respective needs of men, women, and youth, they address problems on a deeply personal level. They're not so much about preaching as they are about an intimate, heart-to-heart talk.
The practical workshops of MegaFest are unified by T.D. Jakes' vision for a better world through better families that are equipped through faith, knowledge, and wisdom, to handle any challenge. These training sessions and panel discussions for adults, children, and families, cover a variety of topics, including entrepreneurship, dance lessons, and cultural issues—there's something to fill nearly every informational need.
Finally, MegaFest is a haven for entertainment and the arts, featuring the International Faith and Family Film Festival, the A Time to Laugh comedy show, award-winning musical performances, and more. Past celebrity guests have included names like Oprah Winfrey, Steve Harvey, and Jennifer Hudson, just to name a few.
MegaFest is a major event, even by Dallas standards, and draws close to 100,000 attendees. The event receives support from big companies like Prudential and Coca-Cola—it's the real deal, so to speak, with the resources to bring in the best in entertainment and instruction.
But as compelling as these individual elements are, they add up to something more.
"You'll be spiritually and emotionally armed by Bishop Jakes' conferences."
The Experience
When we talk about experiences, we're talking not so much about individual elements, but how they affect us as a whole. MegaFest, most importantly, brings attendees closer to God, but it doesn't stop there. It also bequeaths life knowledge, as well as the inspiration to effectively use that knowledge; together, Godliness, knowledge, and inspiration form wisdom.
This is the result of MegaFest. You'll be spiritually and emotionally armed by Bishop Jakes' conferences. You'll be instructed in practical matters through teaching sessions. You'll be inspired by the celebrity and pastoral voices you know and love. Through all of this, you won't come away unchanged—that's guaranteed.
There's also something to be said for simple happiness. MegaFest is all about joy—joy in the Lord, joy in the arts, and joy in one another—and the entertainment in store for you is just as valuable as the instruction. The comedy will make you laugh right out of your seat. The music will move you. This is a festival that includes some of the best entertainment in the world, and they're here for you. We live in an unusually stressful time, with issues of race, politics, and nationality dividing us into warring groups. Why not let all of that go for a few days and simply enjoy the best entertainment that Christian culture has to offer?
MegaFest is good not only for you, but for the rest of the world, as well. When families find wisdom and happiness together, they're motivated to find success, and the success of the family unit is inextricably linked to the success of the nation it inhabits—if even just a few families come away enriched, everyone benefits.
The overall experience of MegaFest is one of improvement. Bishop T.D. Jakes wants to see you and your loved ones overcome your challenges by meeting God on a personal and relatable level, and by learning essential skills that you'll be able to use for the rest of your life. If you've been bound and shackled by the negativity of the world around you, MegaFest will give you the tools you need to set yourself free, and to start living the life God wants you to live.
Come Away Changed
Maybe you've been stagnating in your spiritual life lately. Maybe you feel like you're at a dead end in your career, but you don't know how to improve your situation. Or, perhaps, you're simply feeling down, and can't rise up.
Whatever your situation, MegaFest will give you just the shake-up you need to escape the status quo. The human mind has the easiest time forming new habits when we're in new and exciting situations—let MegaFest be your excuse to change. Take advantage of all it has to offer, and allow the grand vision of Bishop Jakes to give you more than a festival—immerse yourself in the experience of receiving an abundance of joy and wisdom.
Get ready, because that's exactly what awaits you in Dallas this summer. Don't miss out on the experience of MegaFest.