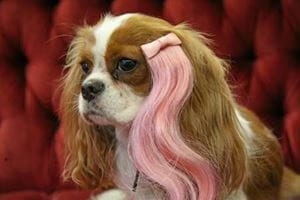 So, you just don't know what to buy Fido for Christmas? Well, if a nice bone from the butcher shop just won't do, here are some ideas from the British tabloid newspaper the Telegraph.
One possibility would be "Petite Amande Dog Fragrance," yes, a perfume for dogs. This cologne has "notes of French blackcurrant, Tunisian neroli, mimosa and violet leaf on a base of sweet vanilla bourbon... with a little almond," according to the manufacturer.
Or you might want to consider a lovely wig for your animal companion. A wide variety is available from Total Diva Pets, which offers "afros, curly sues and even a pink diva 'do," according to the company's website.
It might be a matter of concern that most of the pets
pictured in the company's ads don't look particularly happy about the whole thing.
If you've been frustrated that you bought your pet a gift,
but they were more interested with playing with the box, a company called Caboodle will sell you a lovely, cat-sized, corrugated cardboard box for $29.95.
The "feline environment: allegedly is "easy on the environment."
"These feline towers are made from 100 percent cardboard and printed with flexographic soy-based inks that contain no harmful toxins," says the company.
"The cardboard is extra strong in order to cater for those full-figured kitties."
Better yet, you can arrange them and decorate them however you like. Bring on the felt tip pens and decals! Throw in your cat's favorite pillow, and voila, your cat has a cozy 3-story corrugated condo."
Next on the list are lovely bonnets and caps for your beloved pet.
And from Canine Hipster Clothing, the holidays "can be a fun time for your pet as well — that is, if you give them fun pet costumes to outfit your cuddly creature for the occasion.
"Your pet may not particularly like having to wear a wig, a moustache or a Stars Wars getup at first," acknowledges the manufacturer, "but after you give it some pet-friendly treats, it will succumb to your wishes.
Pet costume ideas are boundless. You can even match your pet's costume to your own if you wish."