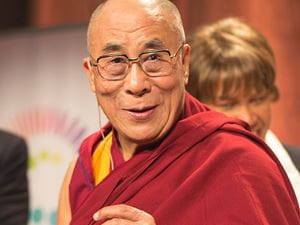 Christopher.Michel/Flickr
Individuals such as the Dalai Lama rarely come to our world. But when they do, it's always when we need them the most.
There are few people that walk the earth with the level of humility and graciousness that the Dalai Lama has. A person who truly speaks and acts with sensitivity and concern for all beings without bias. Forgiveness and compassion for all living creatures are the two pillars of the Dalai Lama's teachings, and through his actions of non-violence, peace, and love it is no surprise that the Dalai Lama inspires millions of people daily.
Here are just some of the amazing times that the Dalai Lama has inspired humanity to become better people and to make a difference.
Symbolizes Hope
For millions of Tibetans, the Dalai Lama is the embodiment of hope. Every year, thousands of Tibetans make the difficult walk over the Himalayas to abandon their hard life under the Chinese and find freedom and opportunities they want in India or other countries. The Dalai Lama patiently meets every single one of them in his home in Dharamsala, giving them encouraging words and asking every one about their experiences back in Tibet. He doesn't skip anyone and instead gives each the time they need to talk. By talking to each person, the Dalai Lama is able to reassure them that they have a bright future ahead. We can learn how to spread hope to others by being patient and understanding, and offering a listening ear like the Dalai Lama does.
Shares His Teachings
While he is highly honored by Tibetans and surrounding countries, the Western world appreciates him, too. For millions of Westerners he is an inspiration with his words of joy, compassion, wisdom and mind training. As one of the most learned and wise spiritual leaders on the planet, he has even inspired hundreds of thousand of Western people to follow in his footsteps through practicing Buddhism and developing love and compassion in their everyday lives.
He doesn't just stop there, and continues to share his teachings with Chinese followers as well. He has written numerous books and conducted hundreds of conferences, lectures and workshops at major universities and institutions throughout the world, discussing engaging in wisdom, and compassion. Unlike his predecessors, the Dalai Lama has met with many Western leaders and has visited the United States, Europe, Russia, Latin America and many countries in Asia on a number of occasions. The Dalai Lama doesn't shy away from sharing his beliefs, no matter what opposition he may face in doing so.
Advocates for Peace
For political and religious leaders all over the world, for governments, organizations and ordinary people he has also been an inspiration through relentlessly advocating peaceful, non-violent solutions as well as love and compassion even towards those some would consider enemies and oppressors. This is what makes political and religious leaders all over the world want to meet him. They are amazed by his ability to communicate and work with those who are defiant and rebellious.
During his travels abroad, the Dalai Lama has stressed the need for a better understanding of and respect among different faiths of the world. He has made numerous appearances at interfaith services and has met with several heads of other religions, including Pope John Paul II; Dr. Robert Runcie, the Archbishop of Canterbury; Gordon B. Hinckley, the president of the Church of Jesus Christ of Latter-day Saints; and Patriarch Alexius II, of the Russian Orthodox Church.
In 1989, the Dalai Lama was awarded the Nobel Peace Prize for his nonviolent efforts for the liberation of Tibet and his concern for global environmental problems. The Committee's citation stated, "The Committee wants to emphasize the fact that the Dalai Lama in his struggle for the liberation of Tibet consistently has opposed the use of violence. He has instead advocated peaceful solutions based upon tolerance and mutual respect in order to preserve the historical and cultural heritage of his people." We should advocate for peace among all people, as well, so that the world can be a happier place. By communicating with our enemies, as opposed to fighting with them, we are able to be more productive and find solutions that work for everyone.
Humanitarian Work
Through travelling, giving teachings, donating funds and helping with inspiration and practical advice, he has also been instrumental in helping the Mongols, Buryats and Kalmyks (who are also followers of Tibetan Buddhism) to build up their monasteries, temples and religious teaching institutions. He gives options for people to come together in peace to share and celebrate their faith in a safe space.
More recently, the Dalai Lama has put an emphasis on taking care of the earth. He has been an advocate for environmental rights and speaks freely on the topic. He has given teachings on the issue, as well as donated funds and offered up practical advice on solutions. He does all of this through non-violent acts and strives to built people up in all areas of life.
Celebrates Happiness
Dalai Lama has been known to say, "the purpose of our lives is to be happy." While we all strive to achieve this, it can be hard to do. Through the Dalai Lama's teachings more have been able to obtain that happiness and grow as humans. When he was interviewed about this, the Dalai Lama said that we are bombarded with messages about material possessions. There are very few messages about forgiving, being compassionate, patient, tolerant, and kind. You really have to give those values top priority in order to be happy and remove the material items from your life if necessary. The Dalai Lama advises everybody to spend a little time alone each day and use this time to reflect and ban the negative thoughts such as anger, resentment, jealousy, and tiredness. Instead, he wants us to try to replace those with positive emotions such as optimism, gratitude, love, and peace. He rightly says that the truly calm mind is the source of happiness and good health.
The Dalai Lama walks this earth with a purpose to provide love and kindness to all those he can. Do you feel inspired by the things the Dalai Lama has done? He has given us the tools to really grow and flourish as humans. Through his teachings and examples, we can become the best version of ourselves and give back to others.