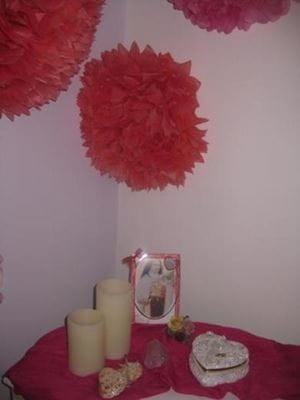 Who said Valentine's Day can't be year-round? When you construct a love altar to enhance your love life or to give it some extra magic, it will stay with you. Here is how you can make that happen!

You will need to find the location of the romance/love area of your room according to feng shui. This is where your altar will be placed on either an end table or other suitable piece of furniture. By specifically designating this area it will help to build up the tunnel of energy and broadcast even more positivity to you wanting to attract a loving relationship into your life. This is usually in the far right upper corner of your room.
Gather some rose quartz crystals and emerald crystals to put out in the corner. These correspond to the heart chakra center, Archangel Chamuel, Archangel Raphael, angels of love and angels of healing. They'll open you up to love as well as clear out anything that may be shutting you down from love. You may also want to see if you can purchase them in the shape of a heart or pocket stones to take with you.
On a pink piece of paper with red ink, write down at the top "My Wonderful Mate is..." and give a full list of what you desire. For example you may want a man that is romantic and writes you poetry, songs, that opens doors and a man you can have fun with. Whatever you desire, add it with some visual details and place on top of your altar.

Go to your local dollar store, look around your house, at garage sales, craft stores and at the drugstore. You want to have rose shaped candles, red or pink pillar candles that can be scented preferably soy-based and in the scents of vanilla or rose and anything that puts you in a romantic mood to decorate with.
Acquaint yourself with the various spiritual beings that are involved in love. There is Archangel Raphael, Cupid, Aphrodite, St. Therese, St. Anthony, and a swan. You have many to choose from. Just familiarize with their backstories and if you want to include them all on the altar, a few or even one that is fine to be your chosen matchmaker!
You may want to gather symbols to represent each being. For instance, a snake or caduceus to represent Raphael, roses for St. Therese, two wedding rings for St. Anthony and so on. You can get small statues and pictures of each entity or just imagine them watching over your love life and sending bursts of love blessing sprinkles to you and the contents of your altar. You can also request prayers to ask for their assistance. Script your own prayers or use more traditional ones.

Gather small frames and place inside romantic images and quotes from your favorite romantic movies, or books that appeal to you.
Read lots of romance novels to ignite your passion and sensuality as well as inspirational ones such as from Laura Penn, Sandra Anne Taylor, and Nicholas Sparks. It will stimulate your visualization and imagination which is great. You may also want to rent or watch romantic flicks like When Harry Met Sally, Sixteen Candles or The Wedding Planner.
Clear out limiting beliefs that come about such as "I'm too ugly" or "I'll never find love".
Write them all down and get them out in the open. Lean on the angels of love for mercy. You are connected to a Higher Power that loves you right now as an eternal soul. If you find that these techniques don't seem to be working, King or Queen Right is not showing up or you are disappointed by the process, change up your altar. Sometimes it is divine intervention or fears that keep you from proceeding with the opportunity brought to you. Let it go and try again. If you still find nothing is happening, there may be more issues for you to deal with and heal as well as karma. Don't give up though. Make sure to accept love and affection in other forms from friends, animals, and family and send it right back. That'll contribute to your Titanic love status.